Fitness Trackers May Help Older People Lose Weight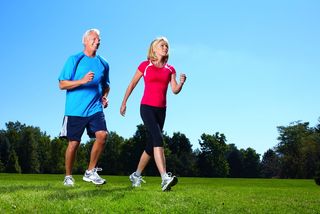 (Image credit: <a href='http://www.shutterstock.com/pic.mhtml?id=111003725&src=id'>Older couple image </a> via Shutterstock)
Fitness trackers have become popular in recent years for people who want to track their activity and put numbers with their workout. A new study shows they may be effective in helping older people lose weight.
Researchers at Wake Forest University worked with 48 obese adults between ages 65 and 79 for 10 months — including five months of effort to lose weight, and five months of follow-up. The study participants were randomly assigned to either a group that was given information about dieting and aerobic exercise, or a group given the same information along with a fitness tracker, and guidance on how to use it.
At the end of the study, the people who had the fitness trackers weighed about 10 percent less than their baseline weight, while those without the trackers weighed only about 5 percent less, according to the study published online March 17 in the journal Obesity.
In their conclusions, the authors said the study provides early evidence that adding a fitness tracker and instruction (which researchers call a "self-regulatory intervention") to a fitness regimen may help people lose weight, as well as maintain that lower weight afterward.
"What this study shows is that this self-regulatory intervention appeared to improve weight loss and weight loss maintenance," said Corby Martin, director of Behavioral Science and Epidemiology at Pennington Biomedical Research Center and a spokesman for The Obesity Society. However, he said, the findings require a lot of context for people who want to use a fitness tracker to help lose weight.
Fitness Trackers: How to Get the Most from Wearable Devices | Video
It's important to note that people with the fitness trackers in the study had some additional attention to help them meet goals of changing their behavior, said Martin, who was not involved in the study.
The key to their weight loss was what researchers call spontaneous physical activity, which involves daily activity that uses energy but is not inherently part of an exercise program, he said. [9 Meal Schedules: When to Eat to Lose Weight]
"That likely influenced their overall energy balance, and helped them lose more weight," Martin said, although he emphasized that this caveat does not detract from the importance of the study.
Although the results may be encouraging for people looking to find new techniques for weight loss, Martin also said people should look to the tracker's numbers, rather than those on the scale, because while weight loss may be a goal for many, it isn't necessarily the most important for health.
"Everyone wants to talk about weight loss," but it can be tricky to look to fitness trackers for weight loss help.
"They weren't designed to monitor and track weight loss, they were designed to track and monitor physical activity," he told Live Science.
Exercise, Martin said, has many health benefits and is an important part of a healthy lifestyle, but some of those benefits, such as those that apply to metabolism and heart disease, are independent of weight loss, so simply focusing on weight is the wrong measurement.
"It's so important for us to [exercise], regardless of whether or not we're changing our body weight," he said.
Follow Live Science @livescience, Facebook & Google+. Original article on Live Science.
Stay up to date on the latest science news by signing up for our Essentials newsletter.
Joe Brownstein is a contributing writer to Live Science, where he covers medicine, biology and technology topics. He has a Master of Science and Medical Journalism from Boston University and a Bachelor of Arts in creative writing and natural sciences from Johns Hopkins University.