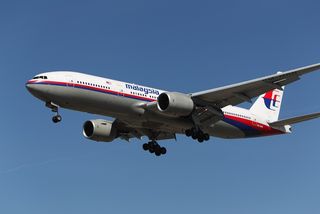 (Image credit: <a href="http://www.shutterstock.com/pic-129976970/stock-photo-los-angeles-california-usa-february-malaysia-airlines-boeing-lands-at-los-angeles.html">Malaysia Airlines Boeing 777 image</a> via Shutterstock)
Large objects spotted by satellites in recent days in the southern Indian Ocean may hold clues to the fate of the Malaysian passenger jet that seemed to have vanished into thin air earlier this month, but it will reportedly take days to verify whether the objects are related to the jets disappearance. Meanwhile, the search continues in other parts of the ocean, and the teams have enlisted a variety of high-tech gear to give themselves the best chance of success.
Malaysian Airlines Flight 370 dropped off the map at about 1:30 a.m. local time on March 8, less than an hour after taking off from the Malaysian capital of Kuala Lumpur, bound for Beijing with 227 passengers and 12 crewmembers aboard. Its location has remained a mystery ever since.
Officials now suspect that the plane was intentionally diverted to the west and kept flying for hours after contact was lost. They have recently concentrated the search in two separate "corridors" that together cover 2.97 million square miles (7.69 million square kilometers) — a huge area the size of Australia. [5 Real Hazards of Air Travel]
High-tech eyes in the sky and in space are scouring this region — especially a big patch of water in the southern Indian Ocean, currently deemed the most promising location — for signs of the (presumably) downed aircraft, in a hunt even more daunting than the proverbial search for a needle in a haystack.
Radar hoping for a hit
Boats and planes are plying the Indian Ocean section, looking for any debris that could be a piece of the missing Boeing 777.
The search aircraft — including vehicles such as the U.S. Navy's P-8A Poseidon patrol plane — scan the ocean's surface with radar, then follow up on promising targets with further investigation.
"The aircraft's advanced radar capabilities allow the crew to recognize and investigate small contacts on the water's surface," Navy officials wrote about the P-8A in a statement Wednesday (March 19). "The crew uses the onboard camera system, as well as a multitude of sensors, to investigate the contacts."
On Tuesday (March 18), the Navy moved one P-8A plane from Kuala Lumpur to Perth, in Western Australia, in accordance with the latest thinking on what may be Flight 370's final resting place. The P-8A flagged 400 radar contacts during its flights out of Kuala Lumpur, but none were bits of the missing plane, Navy officials said.
Of course, search vessels also rely on another complex imaging system. The human eye is tough to beat when it comes to picking out patterns and spotting faint or small objects from afar, so binoculars and sunglasses are a key part of the recovery effort as well.
Eyes higher than the sky
Airborne searching is slow and painstaking work, and each flight generally lasts a maximum of eight or nine hours. So the recovery campaign is also getting help from satellites, which provide a much broader view of the target area. [Photos: Amazing Images of Earth from Space]
For example, NASA joined the hunt for Flight 370 on March 10.
"Activities under way include mining data archives of satellite data acquired earlier and using space-based assets, such as the Earth-Observing-1(EO-1) satellite and the ISERV camera on the International Space Station, to acquire new images of possible crash sites," NASA spokesman Allard Beutel told Live Science's partner site Space.com last week.
"The resolution of images from these instruments could be used to identify objects of about 98 feet (30 meters) or larger," Beutel added.
And on March 11, China activated the International Charter on Space and Major Disasters, which seeks to lessen the effects of disasters by streamlining the delivery of data acquired by space vehicles. A day later, China announced that one of its satellites had spied a possible crash site for Flight 370, but that turned out to be a false alarm.
Further, the U.S. company DigitalGlobe, a provider of high-resolution Earth imagery, has launched a crowdsourcing campaign, asking the public to look for signs of Flight 370 in photos taken by its five satellites.
As of Wednesday, the effort had enlisted more than 6.3 million users, who had tagged more than 6.7 million features in DigitalGlobe imagery, company officials told Live Science. And every pixel in the search database had been viewed by human eyes at least 30 times, they added.
What about sonar?
Sonar, the underwater version of radar, is another tool in the recovery teams' toolbox. But it probably won't play a major role until the search area is narrowed dramatically — until some floating wreckage is found, for example.
Sonar can be used to find objects on the ocean floor, or to map the contours of the seabed itself. Indeed, sonar equipment spotted the main section of Air France Flight 447 — which disappeared in June 2009 shortly after departing Rio de Janeiro en route to Paris — about 2.5 miles (4 km) deep in the Atlantic.
But that was no easy search. The remnants of Flight 447 were found in April 2011, nearly two years after the plane went down, even though teams had spotted floating pieces of the wreckage five days into the search. The hunt for Flight 370, for comparison, is nearing two fruitless weeks.
Sonar could also detect the regular pings from Flight 370's "black boxes," whose locator beacons are designed to activate upon submersion in water. But success will come only at close range, because these signals peter out after 15 miles (25 km) or so, NPR reported.
And the clock is ticking on the locator beacons, if they survived the crash. (They can get snapped off the black boxes during a violent impact.) The beacons will keep pinging once every second for 30 days or so, and then their batteries go dead.
Follow Mike Wall on Twitter @michaeldwall and Google+. Follow us @livescience, Facebook & Google+. Original article on Live Science.
Stay up to date on the latest science news by signing up for our Essentials newsletter.

Michael was a science writer for the Idaho National Laboratory and has been an intern at Wired.com, The Salinas Californian newspaper, and the SLAC National Accelerator Laboratory. He has also worked as a herpetologist and wildlife biologist. He has a Ph.D. in evolutionary biology from the University of Sydney, Australia, a bachelor's degree from the University of Arizona, and a graduate certificate in science writing from the University of California, Santa Cruz.