Get Out and Play! 5 Toys for Active Kids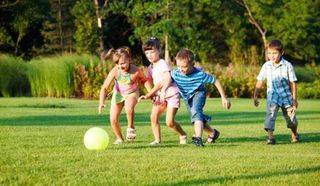 Are you sick of toys that keep your kids sitting inside all day?
Then it may be time to change up what your children are playing with. Live Science Health visited the International Toy Fair in New York City last week to find toys that will help kids to get active. Here's what we found to help get kids off their butts and out of the house.
Smakaball
The Smakaball is a toy that allows users not only to helps kids stay physically fit, but it also helps themto keep their imaginations sharp as well. Each Smakaball set includes an inflatable ball and two handles that allow you use to catch it — and that's all. Everything else is up to the user. Kids can make up their own rules and use the toy in almost every imaginable setting.
Find the Smakaball online, retailing for between $19.99 and $24.99. BUY a Smakaball >>>
Zike
Most people know the many health benefits of riding bikes and scooters. The Zike combines them in a scooter that you pedal to ride. Even better, the toy's creators had the single goal of getting children active and out of the house.
The Zike comes in different sizes, and children as young as 5 years old can use it. Prices range from $199 to $499 depending on the model. BUY a ZIKE >>>
Spooner Boards
With Spooner Boards, your children can skateboard on almost any surface.. The plastic boards look just like a normal skateboard, without the wheels. Spooner Boards can slide on grass, gravel, carpet, sand, snow, hay and almost any other surface.
The products are made for children over the age of 3. Find Spooner Boards online and in stores, ranging in price from $44.95 to $100. BUY Spooner Boards >>>
Brand 44
Are your kids bored of your backyard? Brand 44 can help you do something about that. The company's ziplines and slacklines can help keep your kids excited about going outside. All you need is some open space, and the ziplines (which allow kids to slide between two points) and slacklines (tightropes that have some slack to them) will keep your kids outside for hours.
The products are for children ages 5 and up. Find these ziplines and slacklines in several independent retail stores and on the Brand 44 website. BUY a Slackline >>>
Viahart
Viahart makes a number of products aimed at getting your children active. Those offerings include the Kikbo, a game similar to hacky sack, and Goodminton, a version of badminton that uses a birdie with a feather to make it easier for children to play. Viahart also makes the Noodle, a weighted hula-hoop that helps to burn calories.
Find a full list of their toys and prices on the Viahart website. BUY the Kikbo >>>
Follow Live Science @livescience, Facebook & Google+. Originally published on Live Science.
Stay up to date on the latest science news by signing up for our Essentials newsletter.