Vampires a Mathematical Impossibility, Scientist Says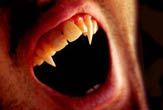 A researcher has come up with some simple math that sucks the life out of the vampire myth, proving that these highly popular creatures can't exist.
University of Central Florida physics professor Costas Efthimiou's work debunks pseudoscientific ideas, such as vampires and zombies, in an attempt to enhance public literacy. Not only does the public believe in such topics, but the percentages are at dangerously high level, Efthimiou told LiveScience.
Legend has it that vampires feed on human blood and once bitten a person turns into a vampire and starts feasting on the blood of others.
Efthimiou's debunking logic: On Jan 1, 1600, the human population was 536,870,911. If the first vampire came into existence that day and bit one person a month, there would have been two vampires by Feb. 1, 1600. A month later there would have been four, and so on. In just two-and-a-half years the original human population would all have become vampires with nobody left to feed on.
If mortality rates were taken into consideration, the population would disappear much faster. Even an unrealistically high reproduction rate couldn't counteract this effect.
"In the long run, humans cannot survive under these conditions, even if our population were doubling each month," Efthimiou said. "And doubling is clearly way beyond the human capacity of reproduction."
So whatever you think you see prowling around on Oct. 31, it most certainly won't turn you into a vampire.
Full Frightening Coverage
Top 5 Haunted Places in America
Pumpkin Shortage?
Stay up to date on the latest science news by signing up for our Essentials newsletter.
Sara Goudarzi is a Brooklyn writer and poet and covers all that piques her curiosity, from cosmology to climate change to the intersection of art and science. Sara holds an M.A. from New York University, Arthur L. Carter Journalism Institute, and an M.S. from Rutgers University. She teaches writing at NYU and is at work on a first novel in which literature is garnished with science.