Ice Cream Glows, Lights Up When Licked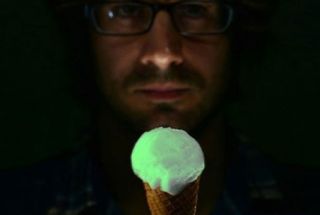 (Image credit: Lick Me I'm Delicious.)
Tired of ho-hum flavors available for ice cream? Chocolate-chip cookie dough? Bleh. Mocha almond fudge? Been there, done that. Premium churned reduced-fat, no-sugar-added caramel turtle truffle? Uninspired.
Okay, well, how does bioluminescent jellyfish sound? Ice cream entrepreneur Charlie Harry Francis, founder of the U.K.-based Lick Me I'm Delicious, has developed the first-ever ice cream that glows in the dark. It was developed using a protein that gives the jellyfish its bioluminescence.
Why? Tell Me Why!: Brain Freeze
On his company's website, Francis describes it: "We've been working with a company who have managed to synthesize a protein extracted from jellyfish that causes to occur. We're using a specific form of this protein which reacts with calcium at a neutral PH, causing the protein to glow when it comes into contact with calcium."
Remarkably, the ice cream also lights up when licked. It's unclear what the ice cream tastes like, but Francis is known for his unusual custom flavors, cheddar cheese and roast beef among them. If you want to taste test the one with jellyfish protein, get ready to spoon out some moola. At $225 per scoop, it's not for just anyone. But there is a cheaper knock-off version that Francis developed using quinine, which glows under black light. That one tastes like a gin and tonic.
This story was provided by Discovery News.
Stay up to date on the latest science news by signing up for our Essentials newsletter.
Tracy Staedter is a science journalist with more than 20 years of experience. She has worked as an editor for Seeker, Discovery, MIT Technology Review, Scientific American Explorations, Astronomy and Earth and authored the children's science book, Rocks and Minerals, part of the Reader's Digest Pathfinders series. In 2013, she founded the Boston-based writing workshop Fresh Pond Writers.