NY Giant Pumpkin Carving Weekend Smashes Record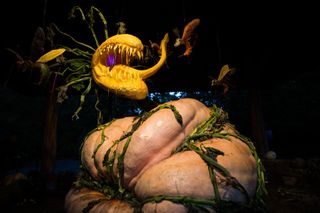 (Image credit: The New York Botanical Garden.)
The world's largest pumpkin and gourds are on display this weekend through Halloween at the New York Botanical Garden, where expert carvers are currently at work providing the finishing touches to their fruit-sculpture masterpieces.
Breaking last year's record, the centerpiece pumpkin this year is a frightful 2,032 pounds (922 kilograms) and was grown Tim and Susan Mathison in Napa, California. Master Carver Ray Villafane, a former school teacher who became a professional pumpkin carver seven years ago, told AFP that this year's giant pumpkin, with its overlapping folds and creases, is perfect for creating a hive of pumpkin wasps.
The Haunted Pumpkin Garden will also display four other ginormous pumpkins, which Villafane and a team of carvers will transform into carnivorous plants and other unearthly creatures. Two pumpkins from New Brunswick, Canada, won their regional weigh-off competitions with a hefty 1,813 pounds and 1,024.5 pounds. Another two from Edinburgh, Pennsylvania, weighed-in at 1,496 pounds and 1,391.5 pounds.
The Haunted Garden will also display the world's largest watermelon, weighing 350.5 pounds and grown in Sevierville, Tennessee; and the world's largest long gourd, a lengthy 139.25 inches, grown in Nova Scotia, Canada.
As many as 15,000 people are expected to visit the NY Botanical Garden's Haunted Garden in the Bronx this weekend. The exhibition will last as long as the weather holds; last year the event closed early due to Hurricane Sandy.
This story was provided by Discovery News.
Stay up to date on the latest science news by signing up for our Essentials newsletter.