Fantastic Voyage to Save the Heart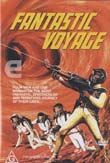 In the 1966 science fiction movie Fantastic Voyage, researchers miniaturize a delivery mechanism and inject it into a human body. In a modern day sequel, Harvard Medical School researchers have used injectable self-assembling peptide nanofibers loaded with the pro-survival factor PDGF-BB to protect rat hearts from injury and subsequent heart failure.
Their study will appear in the January 2006 issue of the Journal of Clinical Investigation. From the study:
(This Science Fiction in the News story used with permission from Technovelgy.com
Loss of Loved One Really Can Cause Broken Heart
Stay up to date on the latest science news by signing up for our Essentials newsletter.
Bill Christensen catalogues the inventions, technology and ideas of science fiction writers at his website, Technovelgy. He is a contributor to Live Science.