The Truth About Garcinia Cambogia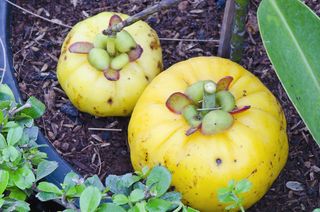 (Image credit: <a href='http://www.shutterstock.com/pic.mhtml?id=111197261&src=id'>Malabar tamarind fruit photo</a> via Shutterstock)
If you ask me, there's really only one way to lose weight and keep it off, and that's to adopt a healthy lifestyle. That includes eating nutritious meals and exercising daily.
But there are plenty of marketers out there would vehemently disagree – because magic pills make money. Acai berry, green tea extract and capsaicin all had their time in the spotlight.
But, let's explore a supplement that has exploded on the weight loss scene more recently: Garcinia cambogia.
Garcinia cambogia is a small, pumpkin-shaped fruit. You may know it as tamarind. The extract of the fruit is called hydroxycitric acid, and that is what the "magic pills" are made from. But do they work? [9 Meal Schedules: When to Eat to Lose Weight]
Let's explore the research:
1998 study published in the Journal of the American Medical Association: After a 12-week randomized, double-blind study of overweight men and women, researchers concluded that Garcinia cambogia did not produce significant weight or fat loss above the placebo.
2013 review in the journal Complementary Theories in Medicine: Researchers evaluated clinical trials that used plant extracts as potential treatment for obesity, and found that the evidence was not convincing in most cases. One exception was a combination of Garcinia cambogia taken with another herb called Gymnema sylvestre, which showed a slight increase in weight loss results. It's a glimmer of hope, but surely, more research needs to be done on the subject.
2005 study in the journal Food and Chemical Toxicology: Researchers tested a high dose of Garcinia cambogia extract on obese male rats. The good news? The rats lost weight! The bad news? Extremely high doses seemed to cause testicular atrophy and toxicity. Yikes!
If you do decide to hop on the latest bandwagon, whether it is Garcinia cambogia or some other plant-based extract, proceed with caution. If you're talking any prescription medications, talk to your doctor before adding any herbal supplement. There may be dangerous interactions. And as researchers saw in the 2005 study on rats, there may be consequences to taking large doses. [Related: Garcinia Cambogia Supplement Often Lacks Active Ingredient, Study Finds]
Until we have more research to draw from, we can't know what is truly safe.
Healthy Bites appears weekly on LiveScience. Deborah Herlax Enos is a certified nutritionist and a health coach and weight loss expert in the Seattle area with more than 20 years of experience. Read more tips on her blog, Health in a Hurry!
Stay up to date on the latest science news by signing up for our Essentials newsletter.
Deborah Enos, CN, also known as "The One-Minute Wellness Coach," is The Health Coach for busy, working people. She pares her good-health messages down to simple and fast bullet points that can impact lives in 60 seconds or less. Deborah serves as a board member of the American Heart Association. In addition to writing the Healthy Bites column for Live Science, Deborah is a regular on FOX Business News, NBC and ABC, and is a frequent contributor to The Costco Connection, Parade Magazine, Self Magazine, Good Housekeeping and USA Today. Deborah is also The One Minute Wellness Coach for The Doctors TV Show.