Why Childhood Obesity Drop May Herald a Change of Habit (Op-Ed)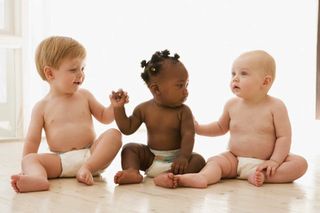 (Image credit: Dreamstime.)
Katherine Tallmadge, M.A.,R.D., is a registered dietitian, author of "Diet Simple: 195 Mental Tricks, Substitutions, Habits & Inspirations" (LifeLine Press, 2011) and a frequent national commentator on nutrition topics. Tallmadge contributed this article to LiveScience's Expert Voices: Op-Ed & Insights.
Recently, I was asked by the newly launched "On Background" on Washington Post TV to discuss news reports of the childhood obesity decline, the first in decades. Calorie-dense snack foods and fast foods are everywhere — easily and cheaply available. Children and adults spend even more time sitting in front of computers, televisions, in classrooms and in cars than just a few years ago.
According to the latest Centers for Disease Control and Prevention (CDC) data, childhood obesity decreased in 19 states from 2008 through 2011. This modest decline is nothing short of miraculous, because America's overall food and physical-activity environment seems worse than ever.
The new reversal in the childhood obesity trend means families, parents, caretakers, teachers and schools are making huge efforts to overcome negative lifestyle influences.
Reversing obesity in American culture, where being overweight is the norm, takes effort — 2 out of 3 adults and 1 out of 3 children are overweight or obese. The problem of obesity is not an accident! Now it seems that adults are making better — harder — choices for their kids. Americans seem to be slowly internalizing the need for healthy eating and exercise, something I focused on in the Easy Solutions for Your Kids chapter of my book — there are tons of ideas that easily integrate into family life.
[Preschool Obesity Rates Finally Drop in Some States ]
Just as smoking was once considered normal adult behavior, the nation is gradually realizing that mindful meals and physical activity must be made a societal norm. And that's great news for children, for their families and for the country — which spends billions of dollars annually on obesity and its related diseases, including Type 2 diabetes, heart disease, cancer and others.
"Obese children are more likely to become obese adults and suffer lifelong physical and mental health problems," the CDC stated in its report. "Obesity rates in low-income preschoolers, after decades of rising, began to level off from 2003 through 2008 and now are showing small declines. However, too many preschoolers are [still] obese," the report continued.
It seems that small, simple changes have been responsible for this amazing improvement in the health of children . Just adding fruits or vegetables at each meal or 15 extra minutes of daily physical activity can make a huge difference in a child's health and weight.
Tallmadge's most recent Op-Ed was "Is BMI Best? 8 Steps to Your Healthiest Weight,"and her additional contributions are available on her profile page. Her latest book is Diet Simple Farm to Table Recipes: 50 New Reasons to Cook In Season. You can follow Tallmadge on Facebook, Twitter @KETallmadge and on YouTube. The views expressed are those of the author and do not necessarily reflect tthe views of the publisher. This article was originally published on LiveScience.com.
Stay up to date on the latest science news by signing up for our Essentials newsletter.