Parents Beware: Kids' Wire Hampers Pose Eye Dangers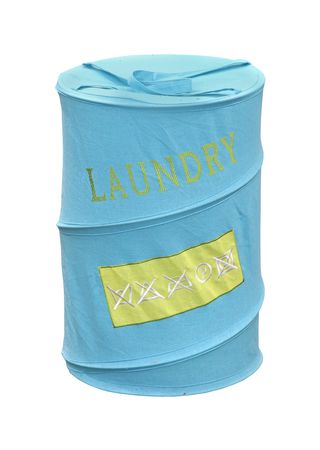 (Image credit: <a href='http://www.shutterstock.com/pic.mhtml?id=96824194&src=id'>Laundry hamper photo</a> via Shutterstock)
Pop-up clothes hampers with wires inside their fabric may do more than hold dirty laundry. If the hamper's fabric edges fray, and the coiled wire inside it pops out, it could seriously injure a child's eye, a new case study reports.
The paper describes the cases of two children who were badly hurt when the sharp wire tip from a collapsible wire-framed hamper sprang loose from its cloth covering, cutting open the right eye of the child in each case.
"I was surprised that there were two eye injuries from the same type of hampers within one year at our hospital," said study author, Dr. Iris Kassem, a pediatric ophthalmologist at the University of Illinois at Chicago's Eye and Ear Infirmary.
Kassem, who helped treat both children, suggested that it's rare to see two similar incidents of deeply penetrating eye injuries linked to a common household item not previously considered a health hazard.
In one of the cases, an 11-year-old African-American boy was injured after tossing his clothes into a pop-up hamper. He didn't realize that the cloth on the hamper rim had frayed, allowing the springy wire coil within the hamper to quickly snap up. The wire forcefully pierced the boy's right eyeball.
The second case involved a 23-month-old African-American girl who was injured by her Tinker Bell hamper, a product specially designed for children. She, too, was hurt when the hamper's sharp-edged wire separated from its cloth covering and struck her right eye.
The findings, which appear online in the July 1 issue of the journal Pediatrics, warn parents of this unexpected danger lurking in the laundry room or in kids' closets. [9 Weird Ways Kids Can Get Hurt]
Eye emergencies
Both children were taken immediately to their local hospitals. But because their eyes were severely slashed open, they were then rushed by ambulance to the Illinois Eye and Ear Infirmary, where each child needed emergency surgery to close up the gash.
Kassem said that these types of eye injuries in children are generally rare, and when they do occur, they tend to result from sharp pens, pencils, rocks, keys or pellets from a BB gun.
She said because both children had surgery quickly, it reduced their chances for vision loss and permanent eye damage.
The boy needed a second surgery to remove a cataract that developed and clouded the lens of his eye, and he also had laser treatment to repair his retina. Five months after his operation, he had perfect vision when wearing a contact lens in his injured eye, the researchers report.
Kassem said the young girl is also doing well. She developed lazy eye in her right eye, which is a common long-term effect of serious eye injuries in children under age 8. It was corrected with glasses, and by sometimes wearing an eye patch; her vision is now 20/20.
Excellent outcomes
But Kassem noted the children may still have vision problems down the road, and are being actively monitored by their eye doctors."I was very surprised that the children did as well as they did," Kassem said, adding that the complete return of their former vision is not typical given the seriousness of their initial injuries. She credited the early surgical interventions with fully restoring the children's sight.
Having seen firsthand the damage caused by these cylindrical cloth hampers, Kassem said she hopes these case reports will help alert parents and pediatricians of the products' possible eye-health risks.
She advised parents to be aware of the integrity of the hamper's fabric, and if it's starting to fray, she suggested throwing it away. Interestingly, a laundry hamper involved in one of the cases had a small warning tag recommending that consumers discontinue its use if the cloth appeared damaged.
"Make sure children are not playing around these things," Kassem said. "It's not a toy."
FollowLiveScience @livescience, Facebook & Google+. Original article on LiveScience.com .
Stay up to date on the latest science news by signing up for our Essentials newsletter.
Cari Nierenberg has been writing about health and wellness topics for online news outlets and print publications for more than two decades. Her work has been published by Live Science, The Washington Post, WebMD, Scientific American, among others. She has a Bachelor of Science degree in nutrition from Cornell University and a Master of Science degree in Nutrition and Communication from Boston University.