People Choose News That Fits Their Views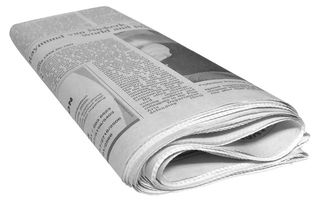 News readers gorge on media messages that fit their pre-existing views, rather than graze on a wider range of perspectives. In other words, they consume what they agree with, researchers say.
The finding comes out of a recent study which tracked how college students spent their time reading media articles on hot-button issues such as abortion or gun ownership.
Unsurprisingly, students gravitated toward articles that supported their views.
"The idea has been around for a very long time, but it has just never been proven," said Silvia Knobloch-Westerwick, a communications researcher at Ohio State University. "It's just considered textbook knowledge or lay common sense."
That preference for similar views may also influence hardcore political junkies who prefer to read blogs with strong political views, according to separate research.
However, researchers still don't know how individual uncertainty about political views affects time spent reading one side or the other. And on the flipside, individuals most confident in their political stance may actually seek out opposing views to read.
News that fits your views
Previous studies have asked people about their news reading habits and broad political beliefs, such as liberal or conservative.
But the new Ohio State study took that a step further by observing how 156 college students spent five minutes reading online magazine articles on a computer. The computer recorded the time each student spent looking at pro and con articles about four issues that included abortion, gun ownership, health care and minimum wage.
"A survey isn't the greatest way to get hold of issues," Knobloch-Westerwick told LiveScience. "In my study, we just had people click on things so that we could watch unobtrusively."
As a result, she found that participants spent 36 percent more time reading articles that agreed with their point of view. They had a 58 percent chance of choosing articles that supported their views, as opposed to a 43 percent chance of choosing an article that challenged their view.
Students also commonly spent time reading both sides on any given issue, according to the study, which is detailed in the June issue of the journal Communication Research. However, very few clicked just on articles that opposed their views.
How political junkies read
Only 5 percent of online news readers go to political blogs on a daily basis, according to a new book by a different researcher, yet many represent the most politically active consumers of the news.
Such readers may prefer blogs over mainstream media sources because they suspect bias in the latter, said Richard Davis, a political scientist at Brigham Young University in Utah.
"They're clearly disenchanted with traditional media," Davis said. "That's why they read blogs in the first place — in their view, they see blogs as more accurate."
Davis worked with several independent firms to conduct nationally representative public opinion surveys of both political blog readers and journalists for his book, "Typing Politics" (Oxford University Press, 2009). He also focused on seven of the top political blogs, which at the time included Daily Kos on the left and Michelle Malkin on the right.
Such political blogs are up front with their political views, and typically "echo" the news reported by traditional journalists while adding their own spin or analysis.
But among the hardcore political junkies, 30 percent told the survey that blogs are more accurate, whereas only 8 percent said traditional media was more accurate. About 40 percent gave equal marks to both.
This trust in blogs over traditional media does not carry over to general readers, Davis cautioned. Less frequent blog readers usually give equal weight to blogs and traditional media. And overall, general readers still put more faith in traditional media.
Conservatives buck the trend
Some findings from both researchers suggest that individual confidence and certainty play a role in what people choose to read.
People with stronger party affiliation, conservative political views, and greater interest in politics proved more likely to click on articles with opposing views, according to the Ohio State study.
"It appears that people with these characteristics are more confident in their views and so they're more inclined to at least take a quick look at the counterarguments," Knobloch-Westerwick noted.
However, Knobloch-Westerwick added that her latest study was not designed to assess reader motives, and that she hopes to more carefully study the issue in the future.
The Brigham Young University survey found that journalists also tended to read liberal blogs — perhaps a reflection of journalists' political beliefs, although even conservatives said liberal blogs were often better-written, Davis pointed out.
Among the political blog readers, a similar trend emerged in which "liberals read almost exclusively liberal blogs, but conservatives tend to read both," Davis said.
Davis offered another possible explanation for this trend among blog readers. Conservative views dominate talk radio, and so conservatives may feel more satisfied by that outlet and are willing to check out opposing views on blogs.
By contrast, liberal views dominate the blogosphere, but are scant on talk radio.
Winning hearts and minds … or not
The big question that remains is whether consuming all this news affects or changes people's views, or simply hardens original beliefs.
Experts have fretted for a while about how people tend to read only what agrees with them. But current research suggests that it's amazing that people ever change their views, Knobloch-Westerwick said.
Some researchers have even begun examining how political leanings are rooted in biology, and the combined influences of genetics or life experiences. A separate recent study suggests that men with more daughters are more likely to take a liberal point of view, while women who have more sons may lean more conservative.
Still, having hardened political views bolstered by media messages might not represent all bad news for a democratic society.
"People who spend more time with messages that bolster their views are more likely to engage in political action, something that's very desirable from a democratic point of view," Knobloch-Westerwick said.
Quiz: Bizarre U.S. Presidential Elections
Stay up to date on the latest science news by signing up for our Essentials newsletter.
Jeremy has written for publications such as Popular Science, Scientific American Mind and Reader's Digest Asia. He obtained his masters degree in science journalism from New York University, and completed his undergraduate education in the history and sociology of science at the University of Pennsylvania.