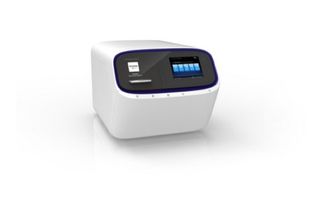 (Image credit: PRNewsFoto/Life Technologies Corporation)
LAS VEGAS – A new DNA sequencing machine from Life Technologies that can scan an entire human genome for $1,000 could help transform cancer treatment and help usher in the era of individualized health care.
Until now, it has taken weeks or months to sequence a human genome at a cost of $5,000 to $15,000, and the machines themselves cost upward of half a million dollars.
The Ion Proton sequencer, in contrast, is priced at $149,000 and can scan a person's genome in just a few hours for about $1,000.
"This has been a remarkable rate of technological innovation," Greg Lucier, chief executive officer of Life Technologies, told an audience at CES 2012.
"Before this point, the machines were too big and too expensive and it took weeks, if not months, to get results. Now this machine is the size of a desktop printer. A clinician just puts in a sample, pushes a button and a couple hours later you have results."
Lucier said affordable genome scans for patients will allow doctors to treat diseases such as cancer at a much earlier stage.
"In the not too distant future, you can go in on Monday to get worked up, the analysis takes place overnight and the next morning the oncologist is telling you about the mutations in your DNA and hopefully be able to prescribe a therapy that will work just for you," he said.
Cardiologist Eric Topol of the Scripps Translational Science Institute called the Ion Proton sequencer a "really remarkable achievement."
"What was announced this week is just extraordinary," Topol said.
"In the near term, someone with a newly diagnosed cancer would have their therapy individualized rapidly and [for much less] than typical scans that are done for cancer today. This is really an exciting time."
This story was provided by InnovationNewsDaily, sister site to MyHealthNewsDaily. Follow InnovationNewsDaily on Twitter @News_Innovation, or on Facebook.
Stay up to date on the latest science news by signing up for our Essentials newsletter.