Newborns Left Vulnerable When Mom Waits to Get Whooping Cough Vaccine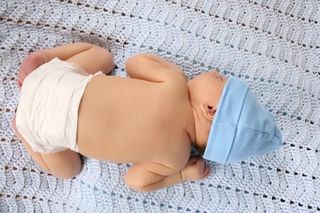 (Image credit: Vanessa Van Rensburg | Dreamstime)
Women should be vaccinated against pertussis, or whooping cough, during pregnancy rather than after giving birth because postpartum vaccinations do not provide enough protection to newborns during their most vulnerable period, a new study says.
After receiving the vaccine, a woman's body will not be protected against the bacterial illness for around two weeks, the study showed. During that time, her body could harbor the bacteria and infect her infant, and her breast milk will not contain antibodies against the illness.
"This means that there is a window of time when she and her young baby are not protected," said pediatrician and lead researcher Dr. Scott Halperin, of Dalhousie University in Halifax, Nova Scotia. "It is clear that protection during this 2-week postpartum period is critical," the study said, because of the one- to three-week incubation period of pertussis, and the frequency of deaths in infants up to 6 weeks of age.
The findings confirm the reasoning behind the June recommendation of an advisory panel at the Centers for Disease Control and Prevention (CDC) that all pregnant women be vaccinated against whooping cough during their second or third trimesters.
The new study was published online last week (Sept. 26) in the journal Clinical Infectious Diseases.
At-risk infants
Whooping cough begins with cold-like symptoms, but progresses to severe coughing that can last for weeks. Over the past 25 years, the illness once considered almost eradicated has been climbing in incidence.
Infants under the age of six months currently have the highest rates of pertussis infection, and the highest death rate from the illness, the study said. A 2010 outbreak of the disease killed 10 infants in California, according to the CDC.
Because newborns cannot be vaccinated themselves, experts have recommend the so-called "cocoon strategy" of protecting them, recommending that the parents, siblings and caretakers of a baby are all vaccinated against pertussis, so the baby has little chance of getting sick.
However, rates of vaccinations against whooping cough remain low.
The CDC's recent recommendation for pregnant women was based on studies showing a woman's disease-fighting antibodies can be transmitted to her baby before it is born, providing protection from the moment of birth.
Halperin and his colleagues wanted to know what would happen if women waited until immediately after birth to get the vaccine. "We wanted to see how quickly a woman's antibody levels would go up, and how quickly those would start being transmitted to her infant through breast milk," he said.
The scientists immunized 30 women with the vaccine for pertussis, and then measured the levels of pertussis antibodies in their blood and breast milk. The antibodies were detectable after seven days, but peaked after two weeks.
Earlier vaccination
"This finding really adds rationale for vaccinating during pregnancy ," said Dr. William Schaffner, a professor of preventive medicine at Vanderbilt University School of Medicine. "It will help everyone both moms and doctors understand why immunization during pregnancy is better than this window of risk."
Immunizing women against pertussis, Schaffner said, protects the moms from whopping cough before the babies are born, and also provides some antibodies to the infant. However, it won't solve the whole problem of whooping cough. The rest of the population needs to be immunized as well.
"The vast majority of the adult population is not vaccinated," he said. "And obstetricians don't always see the dads in their offices, they don't see the siblings or the baby sitters." So it's harder to reach those individuals with vaccinations. He said he hopes education on whooping cough's risks to infants and the importance of the vaccine will slowly raise vaccination rates.
"The bottom line though," Schaffner said, "is that if you're a pregnant woman, you should get the vaccine."Pass it on: New research shows that there's a two-week gap between the pertussis immunization and protection against whooping cough. It confirms the rationale behind immunizing women during pregnancy.
Follow MyHealthNewsDaily on Twitter @MyHealth_MHND. Find us on Facebook.
Stay up to date on the latest science news by signing up for our Essentials newsletter.