Sex Talk at Work Hurts Bottom Line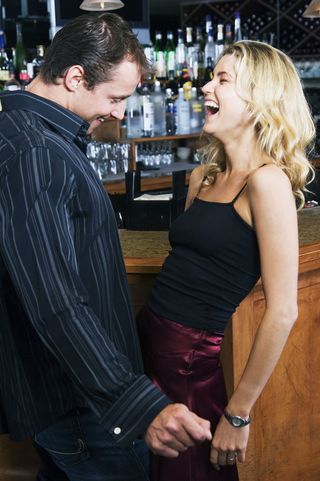 Some people enjoy flirtation and sexual innuendos in the workplace, and others find it rude, but either way it seems to drag down everyone's morale. Especially among men, a surprising new study reveals. In a new study of 238 people, 10 percent of women and 46 percent of men who had experienced office titillation, such as listening to a lewd joke or being approached in an overtly sexual way, found it enjoyable rather than bothersome. In a follow-up study of 1,004 employees, 40 percent had encountered sexual behavior on the job and half rated it a pleasurable or benign occurrence. So you might think that sex talk boosts the morale of many in the workplace. In fact, pundits have long argued that banning all sexual references, in fear of harassment charges, sterilizes the work environment and undermines office productivity, said lead researcher Jennifer Berdahl of the University of Toronto. "All sexual behavior does not equal sexual harassment … because some people obviously enjoy it," Berdahl said. And since enjoyable environments have been linked to better morale and productivity, she thought the pundits could be correct. They aren't. It didn't matter if employees found lewd behavior fun or rude. Either way, the more they experienced it, the lower their morale, the studies found. The detriments seem particularly strong in heterosexual all-male interactions, i.e. "frat house behavior," Berdahl said. "Men may feel pressure to laugh, but they walk away feeling uncomfortable, like they were humiliated slightly," she said. "A lot of these behaviors are designed to 'one-up' another man." Women, too, feel small when exposed to such behavior, perhaps because it highlights their weaker physicality in an environment where they should be seen as equals, write Berdahl and colleague Karl Aquino of the University of British Columbia. The researchers offer two theories on why people who like locker room behavior in the office feel just as lousy as those who hate it. One is that sexual banter is a guilty pleasure, like eating junk food or having too much to drink. "You might sit down and eat an entire bag of Cheetos and think 'Mmmm, that was good,' but afterwards you just feel gross, and it might impede your work," Berdahl said. An additional cause could be the degradation of office morale in general. When employees are hung over from sexual intoxication, including those who find it offensive (often the majority), it can cause a strain on working relationships, Berdahl said. Even when it is fun and flattering, she said, "it may not be sexual harassment, but it is unprofessional and a detriment to the work environment." The research is detailed in the January issue of the Journal of Applied Psychology.
Video – Sex and the Senses
The Sex Quiz
Stay up to date on the latest science news by signing up for our Essentials newsletter.
Robin Nixon is a former staff writer for Live Science. Robin graduated from Columbia University with a BA in Neuroscience and Behavior and pursued a PhD in Neural Science from New York University before shifting gears to travel and write. She worked in Indonesia, Cambodia, Jordan, Iraq and Sudan, for companies doing development work before returning to the U.S. and taking journalism classes at Harvard. She worked as a health and science journalist covering breakthroughs in neuroscience, medicine, and psychology for the lay public, and is the author of "Allergy-Free Kids; The Science-based Approach To Preventing Food Allergies," (Harper Collins, 2017). She will attend the Yale Writer's Workshop in summer 2023.