Bloodsucking and Other 'Vampire Stuff' Leads to Stabbing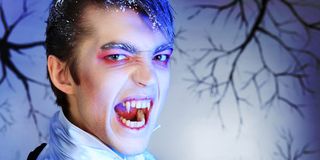 (Image credit: Andrey Kiselev | Dreamstime.com)
Aaron Homer, 24, pleaded guilty to stabbing his roommate because the other man refused to let Homer and his girlfriend suck his blood during a vampire ritual .
Homer told the Maricopa County Superior Court in Arizona that he assaulted 25-year-old Robert Maley for religious reasons Homer and his girlfriend, Amanda Williamson, 21, had been conducting a vampire ceremony on Oct. 3 and asked Maley to participate by letting them suck his blood . When Maley refused the Chandler, Ariz., couple's invite, Homer stabbed him in his left arm with a knife.
Police found the couple covered in blood and discovered the knife under a bedroom mattress in the apartment. Initial statements by Homer indicated that Williamson had been attacked by Maley, and that she stabbed him in self-defense. Homer later admitted to stabbing Maley because he had made fun of Homer's and Williamson's religion.
Police said that Maley fled the apartment after being stabbed because he had multiple warrants out for his arrest. He left a trail of blood, however, which led police directly to him; he was found several blocks away from the residence.
Maley told police that Homer and Williamson were "into vampire stuff and paganism ," and admitted to allowing the couple to suck his blood during a previous ritual. Maley said that when he refused a second blood-sucking, Homer became angry and attacked him.
On March 21, a judge sentenced Homer to three years of probation.
Got a question? Send us an email and we'll crack it. Follow Remy Melina on Twitter @RemyMelina
Stay up to date on the latest science news by signing up for our Essentials newsletter.
Remy Melina was a staff writer for Live Science from 2010 to 2012. She holds a bachelor's degree in Communication from Hofstra University where she graduated with honors.