The Supermoon Marooned Ships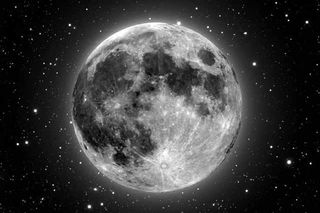 (Image credit: NOAO/AURA/NSF)
While the magnificently super Supermoon that lit up the sky Saturday evening (March 19) doesn't seem to have triggered any natural disasters or induced widespread lunacy, it did maroon five ships, according to the British Coastguard.
In the busy shipping lanes of the Solent, on the western side of the Isle of Wight, the alignment of the sun with an especially nearby moon caused particularly extreme tides throughout the day. Lower than normal tides on Saturday evening left sand and shingle banks exposed, causing one 25-foot yacht to run aground and marooning three other vessels.
Paula-C, a 2,900-tonne cargo ship, got stuck in the sand too and was forced to wait for high tide to lift it clear.
"[There] were no injuries, just some surprise at being caught out like this," a Coastguard spokesman told the press. "Blame it on the moon."
The culprit swung by at a distance of 221,567 miles Saturday night, achieving its distance of closest approach, or "lunar perigee," as well as simultaneously being full. It appeared bigger and brighter in the sky than it has in 19 years.
Got a question? Send us an emailThis e-mail address is being protected from spambots. You need JavaScript enabled to view it This e-mail address is being protected from spambots. You need JavaScript enabled to view it This e-mail address is being protected from spambots. You need JavaScript enabled to view it This e-mail address is being protected from spambots. You need JavaScript enabled to view it This e-mail address is being protected from spambots. You need JavaScript enabled to view it This e-mail address is being protected from spambots. You need JavaScript enabled to view it This e-mail address is being protected from spambots. You need JavaScript enabled to view it This e-mail address is being protected from spambots. You need JavaScript enabled to view it This e-mail address is being protected from spambots. You need JavaScript enabled to view it This e-mail address is being protected from spambots. You need JavaScript enabled to view it This e-mail address is being protected from spambots. You need JavaScript enabled to view it This e-mail address is being protected from spambots. You need JavaScript enabled to view it This e-mail address is being protected from spambots. You need JavaScript enabled to view it This e-mail address is being protected from spambots. You need JavaScript enabled to view it This e-mail address is being protected from spambots. You need JavaScript enabled to view it This e-mail address is being protected from spambots. You need JavaScript enabled to view it This e-mail address is being protected from spambots. You need JavaScript enabled to view it This e-mail address is being protected from spambots. You need JavaScript enabled to view it This e-mail address is being protected from spambots. You need JavaScript enabled to view it This e-mail address is being protected from spambots. You need JavaScript enabled to view it This e-mail address is being protected from spambots. You need JavaScript enabled to view it This e-mail address is being protected from spambots. You need JavaScript enabled to view it This e-mail address is being protected from spambots. You need JavaScript enabled to view it This e-mail address is being protected from spambots. You need JavaScript enabled to view it and we'll crack itThis e-mail address is being protected from spambots. You need JavaScript enabled to view it . Follow Natalie Wolchover on Twitter @nattyover
Stay up to date on the latest science news by signing up for our Essentials newsletter.
Natalie Wolchover was a staff writer for Live Science from 2010 to 2012 and is currently a senior physics writer and editor for Quanta Magazine. She holds a bachelor's degree in physics from Tufts University and has studied physics at the University of California, Berkeley. Along with the staff of Quanta, Wolchover won the 2022 Pulitzer Prize for explanatory writing for her work on the building of the James Webb Space Telescope. Her work has also appeared in the The Best American Science and Nature Writing and The Best Writing on Mathematics, Nature, The New Yorker and Popular Science. She was the 2016 winner of the Evert Clark/Seth Payne Award, an annual prize for young science journalists, as well as the winner of the 2017 Science Communication Award for the American Institute of Physics.