How Does IVF Work and What Lies Ahead?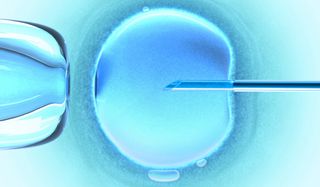 (Image credit: Kts | Dreamstime.com)
Close to 4 million babies have been born in the United States thanks to in vitro fertilization since the late 1970s. The creator of the infertility treatment, Robert Edwards, was awarded the 2010 Nobel Prize in medicine on Oct. 4. How far has IVF come over the years and what lies ahead for this reproductive technology?
Edwards began researching in vitro fertilization as a treatment for infertility in the early 1950s, and the first baby born as a result of IVF came along on July 25, 1978. Since then some individuals conceived by IVF have become parents themselves, according to the National Center for Biotechnology Information.
In fact, the first IVF "test tube baby," Louise Brown, is now 32 years old and has her own family.
It's fantastic news, me and mum are so glad that one of the pioneers of IVF has been given the recognition he deserves. We hold Bob in great affection and are delighted to send our personal congratulations, Brown said in a statement released by Bourn Hall Clinic in Cambridge, Great Britain, the world's first IVF clinic.
During IVF treatment, doctors initiate a woman's ovulation process using hormone medications, and then recover egg cells from the ovary. The eggs, along with seminal fluid, are then incubated for several days, during which they, ideally, become fertilized. Doctors then grade the fertilized eggs on their quality and transfer the eggs most likely to lead to a healthy pregnancy into the patient's uterus, according to the Mayo Clinic.
"A new field of medicine has emerged, with Robert Edwards leading the process all the way from the fundamental discoveries to the current, successful IVF therapy," said the Nobel Assembly at Karolinska Institute in Stockholm, Sweden, in a statement. "His contributions represent a milestone in the development of modern medicine."
Today, IVF is the most common and effective assisted reproductive technology method, according to the Mayo Clinic. About 50,000 babies are born as a result of IVF every year in the United States alone, said Frederick Licciardi, a reproductive science specialist and founding partner of the New York University Fertility Center.
More and more patients are expected to undergo the infertility treatment as it becomes increasingly recognized under health insurance plans, he said.
"Until we find other cures for basic infertility, IVF will continue to grow in popularity," Licciardi told Life's Little Mysteries. "As insurance companies continue to expand coverage, more people are able to afford to undergo IVF procedures. However, there is still a very large number of people who don't have access to it because of the cost."
Got a question? Email it to Life's Little Mysteries and we'll try to answer it. Due to the volume of questions, we unfortunately can't reply individually, but we will publish answers to the most intriguing questions, so check back soon.
Stay up to date on the latest science news by signing up for our Essentials newsletter.
Remy Melina was a staff writer for Live Science from 2010 to 2012. She holds a bachelor's degree in Communication from Hofstra University where she graduated with honors.