New Beauty Machine Makes Everyone Gorgeous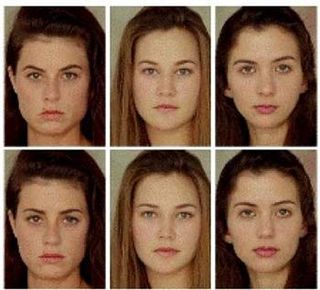 (Image credit: TAU)
Researchers have created a "beauty machine" they say can turn a woman's photo into the likeness of a cover model with the push of a button.
The goal is not just to toy with pictures. Sure, the new computer software could help editors distort magazine cover photos even more than they already do. But it could also guide plastic surgeons in efforts to achieve some perceived level of perfection in a patient.
Or the software might even be incorporated into future digital cameras to make us all appear gorgeous, the researchers suggest.
"Beauty, contrary to what most people think, is not simply in the eye of the beholder," said lead researcher Daniel Cohen-Or of the Blavatnik School of Computer Sciences at Tel Aviv University.
Attractiveness — for men or women — can be objectified by a computer and boiled down to a function of mathematical distances or ratios, Cohen-Or said, admitting that the work is likely to be controversial.
"Beauty can be quantified by mathematical measurements and ratios. It can be defined as average distances between features, which a majority of people agree are the most beautiful," he said. "I don't claim to know much about beauty. For us, every picture in this research project is just a collection of numbers."
All this is actually backed by a study, published recently in the proceedings of Siggraph, an annual computer graphics conference.
Cohen-Or and colleagues asked 68 Israeli and German men and women, ages 25 to 40, to rank the beauty of 93 different men's and women's faces on a scale of 1 to 7. The scores were entered into a database and correlated to 250 different measurements and facial features, such as ratios of the nose, chin and distance from ears to eyes, according to a statement from the team. From this, they created an algorithm of "desirable elements of attractiveness" that then spits out the new you.
The beauty machine is more subtle than a typical Photoshop makeover, they say. The machine does not seem to work so well on celebrities, however.
"We've run the faces of people like Brigitte Bardot and Woody Allen through the machine and most people are very unhappy with the results," Cohen-Or said. "But in unfamiliar faces, most would agree the output is better."
Stay up to date on the latest science news by signing up for our Essentials newsletter.
Robert is an independent health and science journalist and writer based in Phoenix, Arizona. He is a former editor-in-chief of Live Science with over 20 years of experience as a reporter and editor. He has worked on websites such as Space.com and Tom's Guide, and is a contributor on Medium, covering how we age and how to optimize the mind and body through time. He has a journalism degree from Humboldt State University in California.