Watch Mount Merapi Explode Live on the Web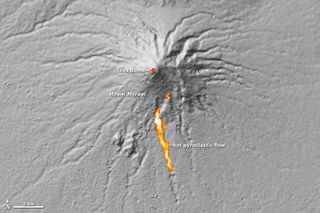 (Image credit: NASA Earth Observatory.)
Fearing that Indonesia's Mount Merapi will erupt again soon, hundreds of thousands of people have begun evacuating from the base of the volcano.
More than 320,000 people have fled to evacuation centers about 12.4 miles (20 kilometers) from the volcano, according to the Indonesian National Disaster Management Agency. Pyroclastic flows scorching rivers of gas and rock are the biggest threat, and several were spotted flowing down the mountain over the weekend and were observed by NASA satellites.
As the evacuation continues, Merapi's recent explosive blasts have become less frequent over the last 24 hours, according to Syamsui Maarig, head of the National Disaster Management Agency, as reported by an Indonesian news outlet and mentioned by Eruptions Blog. While state volcanologists have no way of knowing if the volcano will stop erupting, anyone can now monitor Merapi's eruptions on a new webcam. [FAQ: Will Merapi stop erupting any time soon ?]
More than 150 people have died since the volcano began erupting on Oct. 26.
Belching flows
The steep, conical Mount Merapi volcano is a blessing and a curse to the people of Indonesia.
Merapi constantly dumps volcanic ash during its eruptions on the fields below. This ash creates soil that is fertile enough for multiple harvests. But because Merapi is so active, it constantly threatens tens of thousands of people who live near these rich fields.
The mountain has been shrouded in clouds throughout the eruption, but on Oct. 30 NASA's Terra satellite captured the thermal signature of hot ash and rock and a glowing lava dome. In the above image, the thermal data is overlaid on a three-dimensional map of the volcano to show the approximate location of the flow.
The Center of Volcanology and Geological Hazard Mitigation in Indonesia reported that two pyroclastic flows moved down the volcano on Oct. 30.
Ring of fire
As the world's largest archipelago made up of 17,500 islands, with 235 million people spread across them Indonesia sits between the world's most active seismic region , the notorious Pacific Ring of Fire , and the world's second-most active region, the Alpide belt. Sandwiched between the two earthquake belts, the islands experience some of the most powerful volcanic eruptions and strongest quakes on Earth.
Merapi's deadly eruptions continued as Indonesia struggles to recover from a 7.7-magnitude earthquake that triggered a 10-foot (3-meter) tsunami. The earthquake resulted from the subduction of one of the Earth's rocky plates below another (a process called thrust faulting). [Related: Why Do Some Earthquakes Cause Tsunamis But Others Don't?]
Indonesia is home to 129 active volcanoes. The two most active ones mounts Kelut and Merapi (meaning "mountain of fire") sit on the island of Java, which is also the site of the Indonesian capital of Jakarta, about 310 miles (500 km) northwest of them.
Mount Merapi last erupted in 2006, killing two, but its violent history includes more than 1,300 people that were killed in a 1930 eruption and possibly 70 killed in a 1994 eruption.
Stay up to date on the latest science news by signing up for our Essentials newsletter.
Brett Israel was a staff writer for Live Science with a focus on environmental issues. He holds a bachelor's degree in biochemistry and molecular biology from The University of Georgia, a master's degree in journalism from New York University, and has studied doctorate-level biochemistry at Emory University.