Hidden Deep-Sea Corals Revealed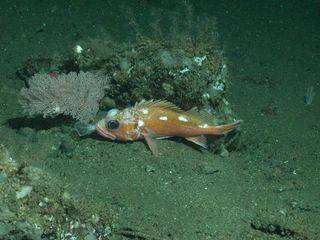 (Image credit: NOAA.)
Four species of deep-water coral never before seen at Cordell Bank National Marine Sanctuary on the California coast have been found by marine biologists.
The scientists sailed for five days in June through 30 mph (50 kph) winds and rainstorms aboard the National Oceanic and Atmospheric Administration's (NOAA) 224-foot- (68-meter-) ship McArthur II to survey the ocean floor.
On day five of the trip, the weather was clear and the 15-member research team deployed remotely operated vehicles and underwater robots to record, photograph and sample deep-sea corals and other marine life in the sanctuary, which is about 42 miles (68 kilometers) north of San Francisco.
The robots operated for 11 straight hours in search of deep-sea corals that live in the water between 600 and 2,500 feet (183 and 762 meters) below the ocean's surface. This is the first time that these four coral species have been spotted at the sanctuary; however they were known to live in the Olympic Coast National Marine Sanctuary, near Washington. The corals at Cordell were found between 985 and 1,312 feet (300 and 400 m) underwater.
"We've never been down that deep in the sanctuary," said Dan Howard of the Cordell sanctuary, who was aboard the ship. "This is the first time we've seen many of these corals in this habitat."
Corals are tiny creatures that live in skeleton-covered colonies, creating the illusion that a coral community is one single organism. The most abundant coral found at the Cordell sanctuary was the lacy-white primnoid coral, which scientists are now analyzing to pinpoint its species, Howard told OurAmazingPlanet. The team is also trying to date the corals, some of which can be 1,000 years old.
The team arrived back on land June 25, completing the second leg of their month-long expedition exploring deep-sea corals off the West Coast at four national marine sanctuaries. The mission's first leg was at Olympic Coast National Marine Sanctuary off the Washington coast from June 9 through June 17 and the final leg is in the Channel Islands National Marine Sanctuary from June 26 through July 3.
Two additional research expeditions are planned for 2010 near Washington and Southern California. These missions, along with other recent coral discoveries around the world, will help conservationists and marine sanctuary managers protect these fragile ecosystems.
Another recent coral discovery came among the red mangrove roots of Hurricane Hole in the U.S. Virgin Islands, where scientists found 30 different species of coral tucked away and thriving.
Rising water temperatures and acidic oceans due to climate change threaten coral reefs around the world. These discoveries of previously unknown coral reef systems are crucial to scientists that study how corals might survive climate change and how to protect reefs from overfishing .
"Deep-sea coral provides habitat for fish and other marine life," said Kacky Andrews of the NOAA Coral Reef Conservation Program. "Research helps determine the extent and ecological importance of deep-sea coral communities and the threats they face. Sound management of these ecosystems requires scientifically based information on their condition."
Stay up to date on the latest science news by signing up for our Essentials newsletter.
Brett Israel was a staff writer for Live Science with a focus on environmental issues. He holds a bachelor's degree in biochemistry and molecular biology from The University of Georgia, a master's degree in journalism from New York University, and has studied doctorate-level biochemistry at Emory University.