How Hospitals Can Turn Deadly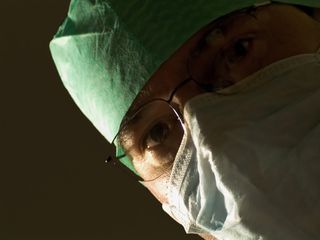 The rule of thumb is you go to a hospital to get well. But sometimes it's the hospitals that make people ill and even prove deadly.
The problem is serious enough that this week Medicare stopped paying for the cost of mistakes. An initial list of 10 things won't be covered, including surgery to remove items accidentally left inside a person during an initial surgery, treatment for bed sores and in-hospital falls, and treating the aftermath of incompatible blood transfusions. Several major insurance companies have already introduced similar rules in recent years.
The definitive study on the problem, which served as a wake-up call, was a 1999 report by the Institute of Medicine of the National Academies. Titled "To Err Is Human: Building A Safer Health System," it estimated that somewhere between 44,000 to 98,000 Americans die in hospitals each year as the result of medical errors. Just the lower estimate would make medical errors the eighth leading cause of death at the time (more than motor vehicle accidents, breast cancer or AIDS).Among the leading mistakes: misdiagnoses, equipment failure and infections.
Medical errors were found to cause 238,337 potentially preventable deaths — just among U.S. Medicare patients — over a three-year period ending in 2006, according to a study this year by the HealthGrades rating organization. That works out to 79,446 per year. Those mistakes cost $8.8 billion, HealthGrades calculated. The overall rate of errors for those covered by Medicare, which include the disabled and elderly, was about 3 percent.
The Centers for Medicare and Medicaid Services says 193,566 patients were injured in falls while at the hospital last year.
From systemic issues to exhausted staff to problems that medicine has yet to solve, here are just a few of the problems hospitals, and patients, suffer:
Superbugs
You'd think hospitals are the cleanest places around, but it's quite a job to totally eliminate deadly microbes. They thrive in many hospitals, just waiting to find a way to crawl inside another victim. According to the U.S. Centers for Disease Control and Prevention (CDC), some 1.7 million hospital-associated infections caused about 99,000 deaths in 2002.
Meanwhile, cases of infection from the so-called superbug methicillin-resistant Staphylococcus aureus, or MRSA, have been increasing each year, in part because they've evolved to resist the effects of antibiotics. MRSA killed 18,650 Americans in 2005. Most of the deaths are among the elderly, and officials say most younger, healthy people can survive superbug attacks.
The microbes, unfortunately, seem to breed well even in sanitary hospitals, and researchers are not yet sure how to combat the problem.
Noise
Hospitals have become noisier over the years, stressing staff and potentially contributing to more errors. The decibel level at a typical hospital during the day rose from 57 in 1960 to 72 by 2005. At night, the noise level has gone from 42 to 60 decibels since 1960. Guidelines from the World Health Organization call for a maximum of 35 decibels.
Exhaustion
Many medical errors are attributed to exhausted, sleep-deprived doctors and other staffers. A 2006 study reported in PLoS Medicine, looked at 2,737 medical residents and 17,003 of their monthly reports. In months in which residents worked just one long shift-of 24 hours or more, they were three times more likely to report a fatigue-related significant medical error compared with months with no extended hours.
Bad timing
Heart attack victims who arrive at a hospital during off-hours or on the weekend wait longer for help and are at a higher risk of death, according to a 2005 study in medical journal JAMA.
The study involved patients treated with percutaneous coronary intervention, called PCI. It includes angioplasty, in which a catheter-guided balloon is inserted to open a narrowed coronary artery. From the moment a patient entered the door, it took an average of 94.8 minutes to insert the balloon during regular hours. For patients admitted after hours and on weekends, it took 116.1 minutes.
Along these lines, babies born at night are at least 12 percent more likely to die within 28 days, according to a different 2005 study. The reasons are thought to include fatigue and inattention related to shift changes.
Really getting burned
Data from the Pennsylvania Patient Safety Reporting System finds that every year about 28 patients are burned during surgery by fires, such as when oxygen inside a mask ignited. Extrapolated nationwide, the data suggests 550 to 650 surgical burns occur nationwide each year, including one or two deaths, according to a recent MSNBC analysis. Cathy Lake, the daughter of a surgical burn victim, created www.surgicalfire.org to highlight the problem.
Change needed
Many errors result from systemic problems rather than negligence or misconduct, according to the Institute of Medicine. For example, medication mistakes were responsible for 7,000 of the deaths in the 1999 study. A 2006 study found that medication mistakes injure more than 1.5 million Americans every year.
Including a pharmacist on medical rounds can reduce the medication errors by 66 percent, the institute states. Handheld computers and patient barcoding have also been found to reduce errors. Many doctors have begun to lobby for cell phones in the hospital, which reduce errors by making communication more timely.
Change comes slowly, however. In 2005, the CDC reported that only 8 percent of physicians used a computerized system for ordering drugs and diagnostic tests. The system compares requests against dosing standards and a patient's medical records.
Why Do Doctors Wear Green Or Blue Scrubs?
Stay up to date on the latest science news by signing up for our Essentials newsletter.
Robert is an independent health and science journalist and writer based in Phoenix, Arizona. He is a former editor-in-chief of Live Science with over 20 years of experience as a reporter and editor. He has worked on websites such as Space.com and Tom's Guide, and is a contributor on Medium, covering how we age and how to optimize the mind and body through time. He has a journalism degree from Humboldt State University in California.