Autism May Be Linked to Placenta Abnormalities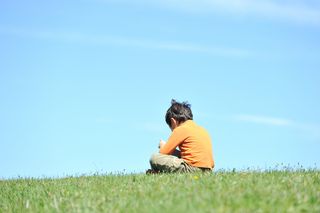 (Image credit: <a href='http://www.shutterstock.com/pic-80888779/stock-photo-photo-of-young-boy-sitting-on-the-grass-and-looking-down-he-is-thinking-and-sad-abandoned-lonely.html?src=60d07fc69cdfd7020d6cd92b3c257766-1-13'>Child photo </a> via Shutterstock)
Children at an increased risk of autism may have abnormal structures in the placenta that can be detected at birth, a new study finds.
The findings suggest behavioral interventions aimed at social and motor skill development in these children could be started right away, the researchers said. Studies have shown that such interventions are more effective in children with autism when they are started earlier.
It's much too early to say that an examination of the placenta could be used as a definitive test for autism at birth, said study researcher Dr. Harvey Kliman, director of Reproductive and Placental Research at the Yale University School of Medicine. Autism spectrum disorders are typically diagnosed when children are ages 3 or 4, or even older.
However, if these structures were found upon a child's birth and interventions were started, the child might benefit greatly if they did turn out to have autism, while there would be little downside if a child turned out not to have autism -- it's unlikely they would be harmed by the effort, Kliman said.
In the study, Kliman and his colleagues collected samples of placenta tissue from 117 children born to families who already had a child with autism, and compared them with placentas from 100 babies born into families in which no older children had autism. The researchers, who didn't know which placentas had come from each group of children, examined samples of the placentas under microscopes.
While one in 50 children in the general population have autism, according to the latest estimate from the Centers for Disease Control and Prevention, the autism risk among children with an older sibling who has autism is 18.7 percent, the new study says.
The researchers found that structures called trophoblastic inclusions (TIs) — which are small, pitlike invaginations into the placental wall — were much more common in the placentas of the high-risk children.
Placentas from at-risk children were eight times more likely to have two or more trophoblastic inclusions compared with control samples, according to the study.
The presence of four or more TIs was linked strongly with being in the at-risk group, the study showed. None of the placentas from the control group had four or more TIs, while 19 percent of those in the at-risk group did.
That suggests that using a cutoff point of four TIs in the placenta could reveal with a 99 percent specificity that a child was in the high-risk group. In other words, it is extremely likely that a child with four placental TIs is at high-risk for autism, Kliman said.
However, using the four-TI cutoff point would have a low sensitivity for detecting children in the high-risk group: 81 percent of children in the high-risk group did not have four or more TIs.
Kliman said the researchers will continue to follow up with the children in the study to see which of them are ultimately diagnosed with autism. He noted that about one in five children in the high-risk group would be expected to develop autism. It will be interesting to see whether the 19 percent of children with four or more TIs line up with those who eventually are diagnosed with the condition, he told MyHealthNewsDaily.
The findings do not mean that the TIs cause autism, Kliman said. Rather, it is likely that whatever causes autism in a child also causes TIs to form in the placenta, he said. "The placenta is a reflection of what's happening in the brain."
Researchers have long-known that TIs are linked with chromosomal abnormalities. The fact that TIs are also found in children at high risk of autism provides more evidence that the condition has genetic roots, Kliman said.
The study is published online today (April 25) in the journal Biological Psychiatry.
Pass it on: Children with autism may be more likely to have placental abnormalities.
This story was provided by MyHeatlhNewsDaily, a sister site to LiveScience. Follow Karen Rowan @karenjrowan. Follow MyHealthNewsDaily @MyHealth_MHND, Facebook & Google+.
Stay up to date on the latest science news by signing up for our Essentials newsletter.

Karen came to LiveScience in 2010, after writing for Discover and Popular Mechanics magazines, and working as a correspondent for the Journal of the National Cancer Institute. She holds an M.S. degree in science and medical journalism from Boston University, as well as an M.S. in cellular biology from Northeastern Illinois University. Prior to becoming a journalist, Karen taught science at Adlai E. Stevenson High School, in Lincolnshire, Ill. for eight years.