Major Flooding Continues From Missouri to Michigan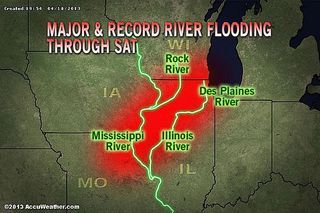 (Image credit: Accuweather.com)
This article was provided by AccuWeather.com.
Torrential rain, concentrated in two days or less, has led to major flooding in parts of the Midwest. In some areas, flooding will continue beyond the weekend.
While the rain was exiting the region at increasing speed Friday, runoff from small streams into progressively larger rivers will continue the flooding risk through the weekend and beyond in some locations.
Levels in some of the tributaries of the upper Mississippi and Ohio rivers are projected to reach, surpass or remain major flood stage over the next several days.
Multiple gauges along the Illinois River in Illinois were setting record high levels Friday.
National Weather Service hydrologists were projecting a record crest of the Grand River at Comstock Park, Ill., with the Wabash River at Lafayette, Ind., reaching major stage during this weekend.
Moderate flooding is forecast along the Mississippi River at St. Louis to begin this weekend with major flooding projected along the waterway at Chester, Mo., during next week.
Levels along portions of the upper Mississippi River were flirting with record lows last autumn into the first part of this past winter.
According to Chief Meteorologist Elliot Abrams, "Some of the highest rainfall totals in this area were around Chicago, where O'Hare International Airport recorded 5.38 inches of rain in two calendar days."
Much of that rain fell during the 24-hour period ending at 9:00 a.m. CDT, Thursday. The Chicago has received about two-and-a-half times their normal rainfall for the entire month spanning April 6 to 18.
Other rainfall totals in the area include Grand Rapids, Mich., picking up 4 inches of rain and St. Louis, Mo., being drenched with nearly 2.5 inches. Portions of eastern Iowa received between 5 and 6 inches.
Since Wednesday, there have been over 150 reports of flash, urban, small stream and river flooding spreading from Oklahoma to Michigan.
Additional rain will fall over the Midwest next week.
However, according to Meteorologist Evan Duffey, "The system is forecast to move at a faster pace with less intense rainfall for most hard-hit areas of this past week. Still there is the risk of the rain aggravating flooding problems in a few locations."
Expert Senior Meteorologist Alex Sosnowski contributed content to this story.
© AccuWeather.com. All rights reserved. More from AccuWeather.com.
Stay up to date on the latest science news by signing up for our Essentials newsletter.