Boston Bombing: How to Talk with Kids About the Attack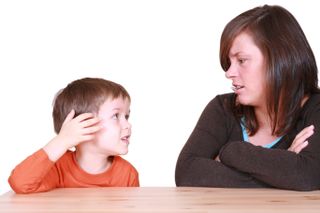 (Image credit: Monika Adamczyk | Dreamstime)
As details continue to emerge about the people who were injured or killed in yesterday's bombing in Boston, and authorities search for those responsible, parents everywhere may be wondering how to talk with their children about the horrific event.
It's important that parents and other adults listen to children, reassure them and model good coping strategies, said Dr. Victor Fornari, director of child and adolescent psychiatry at North Shore-LIJ Health System in New Hyde Park, N.Y.
"Parents need to understand that their responses to kids make a difference. You need to do everything that you can do to heal the psychological wounds," Fornari said. It's important that children return to their normal activities as soon as possible.
Since Sept. 11, psychological researchers have developed a much better understanding of the best ways to help children understand and cope with a tragedy like yesterday's bombing, he said.
Adults should follow a child's lead, he said. If a child asks a question, try to first clarify what information the child is really looking for. Then, answer the questions, but do not give children blow-by-blow details about the event.
"It's important to protect children against distress," Fornari said.
A child's age may affect what questions they have, as well as his or her reaction to the event.
The youngest children may say, "I heard something bad happened. What happened?" Fornari recommended that parents not offer too much information — for example, responding by saying that someone tried to hurt other people. Children may say they heard that a child died in the bombing, and parents might respond that doctors will do everything they can to help people who were hurt.
Older children may have more focused questions about what they heard. Aside from returning to their normal activities, older children may also benefit from participating in service-oriented activities, he said.
He recommended not leaving the television or radio on while coverage of the bombing is airing, nor should adults discuss the event between themselves within earshot of children.
Kids may feel sad or helpless. They need to be reassured that however they are feeling, it's normal to feel that way. "Some will have behavioral and emotional reactions — the whole range of this is normal," he said.
About 10 percent of children have anxiety disorders, and these children especially need reassurance that they are safe, he said.
Children who develop heightened levels of anxiety may get to the point where it interferes with their life — they may not want to go school, or sleep in their own bed. If such symptoms continue for more than a few days, parents should seek the advice of a doctor, Fornari said.
Fornari recommended that parents looking for resources should visit the webpage of the National Child Traumatic Stress Network (http://www.nctsn.org/) for more information.
Pass it on: Adults need answer kids' questions carefully in order to reassure them and protect them from distress.
This story was provided by MyHealthNewsDaily, a sister site to Live Science. Follow Karen Rowan @karenjrowan. Follow MyHealthNewsDaily @MyHealth_MHND, Facebook & Google+.
Stay up to date on the latest science news by signing up for our Essentials newsletter.

Karen came to LiveScience in 2010, after writing for Discover and Popular Mechanics magazines, and working as a correspondent for the Journal of the National Cancer Institute. She holds an M.S. degree in science and medical journalism from Boston University, as well as an M.S. in cellular biology from Northeastern Illinois University. Prior to becoming a journalist, Karen taught science at Adlai E. Stevenson High School, in Lincolnshire, Ill. for eight years.