Higher Obesity Rates Linked to Lower Incomes in US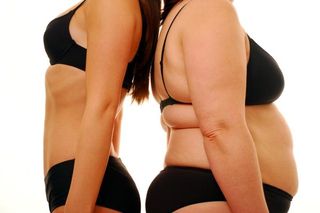 The varying obesity rates seen across U.S. cities line up with average incomes — cities in which average incomes are lower, obesity rates tend to be higher, according to a new poll.
In the 10 metro areas with the lowest obesity rates, where on average 16.6 percent of people are obese, average annual wages were $47,783 in 2012. In the 11 metro areas with the highest obesity rates, where the average obesity rate was 34.1 percent, wages averaged $38,550, according to Gallop poll results released today (April 11).
The trend is seen as "reflecting the link between obesity and poverty," a statement from Gallup said.
The poll also looked at what percentage of residents said they have enough money to buy food at all times, and have enough money for health care and medicine.
People in cities with the highest obesity rates are less likely to consistently afford both food and health care than those in cities with the lowest obesity rates, the poll results showed.
The city with the lowest obesity rate in the U.S. was Boulder, Colo., where 12.5 percent of residents say they are obese. This is the third year in a row that Boulder has ranked lowest.
The metro area with the highest rate was McAllen-Edinburg-Mission, Texas, where 38.5 percent of residents are obese.
After Boulder, the metro areas with the lowest obesity rates were Charlottesville, Va. (14.3 percent), Bellingham, Wash. (15.9 percent), Fort Collins-Loveland, Colo., (16.6 percent) and Naples-Marco Island, Fla. (16.6 percent).
Poll results released in March named Colorado as the state with the lowest rate of obesity (of 18.7 percent), and the only state with an obesity rate lower than 20 percent.
After McAllen-Edinburg-Mission, the metro areas with the highest obesity rates were the Huntington-Ashland area, which spans West Virginia, Kentucky and Ohio (37.7 percent); the Little Rock-North Little Rock-Conway area of Arkansas (34.7 percent); Mobile, Ala. (33.7 percent); and the Hagerstown-Martinsburg area that spans Maryland and West Virginia.
The poll showed that nationwide, 26.2 percent of Americans ages 18 and older were obese in 2012.
Pass it on: Cities with higher rates of obesity tend to have lower average incomes.
This story was provided by MyHealthNewsDaily, a sister site to LiveScience. Follow Karen Rowan @karenjrowan. Follow MyHealthNewsDaily @MyHealth_MHND, Facebook & Google+.
Stay up to date on the latest science news by signing up for our Essentials newsletter.

Karen came to LiveScience in 2010, after writing for Discover and Popular Mechanics magazines, and working as a correspondent for the Journal of the National Cancer Institute. She holds an M.S. degree in science and medical journalism from Boston University, as well as an M.S. in cellular biology from Northeastern Illinois University. Prior to becoming a journalist, Karen taught science at Adlai E. Stevenson High School, in Lincolnshire, Ill. for eight years.