Now Hear This: Don't Remove Earwax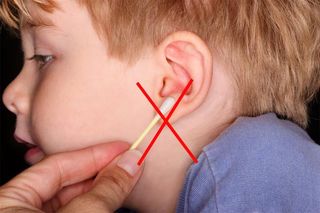 (Image credit: Dreamstime.com.)
The gooey, golden stuff that builds up inside your ears should stay there, according to national guidelines on earwax removal released today.
"[Earwax] is not intrinsically evil stuff, and consequently does not have to be removed merely because it's present," said Peter Roland, an ear, nose and throat doctor at the University of Texas Southwestern Medical Center at Dallas. "In fact, it serves a function and so if you don't need to take it out, you should just leave it alone."
Roland chaired a panel of doctors in charge of the new guidelines for earwax removal issued by the American Academy of Otolaryngology - Head and Neck Surgery Foundation (AAO-HNSF). The guidelines are intended to serve two purposes: to determine under what circumstances earwax needs to be removed, and to give doctors the scoop on which removal methods work best.
They hope the guidelines won't fall on deaf ears: About 12 million people a year in the United States seek medical care for impacted or excessive earwax. Impaction, they say, can cause pain, pressure, itching, foul odor, ringing of the ears, ear discharge and, in extreme cases, hearing loss.
Good-for-you goo
So there's a reason for the goo. Earwax is a self-cleaning agent, with protective, lubricating and antibacterial properties, doctors say.
That's why tiny glands in the outer ear canal constantly pump out a watery substance, which gets mixed with bits of dead hair and skin and together is called earwax or cerumen. Excess earwax normally treks slowly out of the ear canal, with an extra boost from chewing and other jaw movements, carrying with it dirt, dust and other small particles from the ear canal. Then, dried-up clumps of the stuff fall out of the ear opening.
When this natural earwax train malfunctions, or when individuals poke around in their ears with cottons swabs or other foreign objects such as bobby pins or matchsticks, earwax can build up and block part of the ear canal.
"Then there are lots of people wearing earplugs for one reason or another, either because they've got hearing aids or they're transcriptionists at work or because they're addicted to their walkman," Roland told LiveScience, "and that can increase the likelihood that the wax doesn't come out on its own."
Older adults are more prone to earwax buildup then younger individuals.
"The wax gets much thicker and drier, and plus you actually end up with more hair in your ear, when you're older, and so it traps it," Roland said.
He added, "Unfortunately, many people feel the need to manually 'remove' cerumen from the ears. This can result in further impaction and other complications to the ear canal." He said the saying, "Don't put anything smaller than your elbow in your ear," holds true.
Leave your ears alone
For the everyday individual, the new guidelines suggest you leave your ears alone unless you experience symptoms that you think are associated with too much earwax.
"If they're going to do something at home, they should probably use drops of some sort," Roland said. The panel found no evidence that one type of over-the-counter drops works better than another, or better than just plain sterile water or sterile saline, he said.
The drops help to loosen the earwax and then the ear often can do the rest, he added.
The guidelines also state that cotton-tipped swabs or other objects should not be used to remove earwax. Oral jet irrigators and the alternative medicine technique called ear candling are also strongly advised against.
Ear candling involves making a hollow tube from fabric and soaking that in warm beeswax, which is cooled and hardens. Once cooled and hardened, the beeswax cone is stuck into the ear. The outer end of the tube is lit and burns for about 15 minutes, a process that supposedly draws the wax out of the ear.
Studies have shown, however, that the drawn-out stuff is material from the candle itself. Doctors have also reported seeing patients who have burned the outer parts of their ears with this method.
If the drops don't relieve your symptoms, or if you dislike drops but still have symptoms, it's time to see a doctor, Roland said.
The panel found that three common techniques for earwax removal at the doctor's office work best, with no single method outshining the others. These include flushing the ear out with a water solution; manually removing the earwax under a microscope using medical instruments; and sending the patient home with ear drops.
While at the doctor's office, Roland urges patients not to be embarrassed by a little earwax.
"I get a lot of people in here who are horrified when I see a little wax in their ear, and then they start apologizing for being dirty and they're just very upset it's present at all," Roland said. "And I think the big message there is that it has a physiological function, and unless there's a reason to remove it, you should just leave it alone. It's OK."
Video – The Dirt on Staying Clean
The Body Quiz: What the Parts Do
Stay up to date on the latest science news by signing up for our Essentials newsletter.
Live Science Editor-in-Chief
Jeanna served as editor-in-chief of Live Science. Previously, she was an assistant editor at Scholastic's Science World magazine. Jeanna has an English degree from Salisbury University, a master's degree in biogeochemistry and environmental sciences from the University of Maryland, and a graduate science journalism degree from New York University. She has worked as a biologist in Florida, where she monitored wetlands and did field surveys for endangered species. She also received an ocean sciences journalism fellowship from Woods Hole Oceanographic Institution.