The Facts Behind the Maine Earthquake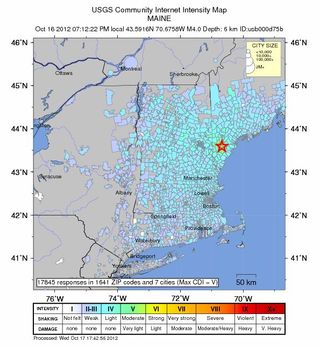 (Image credit: USGS)
How unusual was the magnitude-4.0 earthquake that struck southern Maine yesterday (Oct. 16)?
U.S. Geological Survey geophysicist Julie Dutton said it was larger than most but not too out of the ordinary for New England, where one or two minor earthquakes can be felt somewhere every year.
It's unclear what exactly caused the quake, Dutton told OurAmazingPlanet. "To pinpoint which fault it was — we don't have that information and we may never have that information," she said. The area lacks the extensive network of seismometers present in more tectonically active areas. There are many faults in the area, and the fault that was active yesterday was probably small and may never be active again, Dutton said.
The East Coast is riddled with old faults, buried miles deep in the ancient crust of the North American plate, the tectonic plate that underlies the United States and Canada. But most of these fissures haven't been active in a long time, and very few of them are well-studied or understood.
Stress naturally builds up within tectonic plates and is periodically released in earthquakes like this one, Dutton said.
As in other East Coast quakes, the vibrations Tuesday could be felt over a wide area – as far south as Long Island, N.Y., and as far north as southeastern Ontario, she said.
In North America, feeling shaking over such a larger area is unique to the East Coast. The crust of the eastern part of continent isn't as fractured as elsewhere, which allows vibrations to travel long distances. That explains how last year's 5.8-magnitude earthquake, centered in Virginia Aug. 23, was felt by nearly a third of the United States.
Last night's temblor came from a rupture 4 miles (6 km) underground and struck at 7:12 p.m. local time (23:12 UTC), the USGS reported. The epicenter was about 21 miles west of Portland, Maine.
The earthquake shook houses in Boston and Connecticut, but it apparently did not cause any injuries or damage, according to news reports. "A magnitude-4 can knock stuff off shelves and that kind of thing, but isn't likely to cause major structural damage," Dutton said.
The last earthquake to cause moderate damage in New England was a magnitude-5.6 temblor in New Hampshire in 1940, she said. The largest earthquake in recorded history in New England struck New Hampshire in 1638 and had an estimated magnitude of 6.5, according to the USGS.
Many parts of the country, including California and much of the Southeast, will be holding an earthquake drill tomorrow morning as part of the Great American Shakeout.
Reach Douglas Main at dmain@techmedianetwork.com. Follow him on Twitter @Douglas_Main. Follow OurAmazingPlanet on Twitter @OAPlanet. We're also on Facebook and Google+.
Stay up to date on the latest science news by signing up for our Essentials newsletter.
Douglas Main loves the weird and wonderful world of science, digging into amazing Planet Earth discoveries and wacky animal findings (from marsupials mating themselves to death to zombie worms to tear-drinking butterflies) for Live Science. Follow Doug on Google+.