New Contact Lenses Go Bionic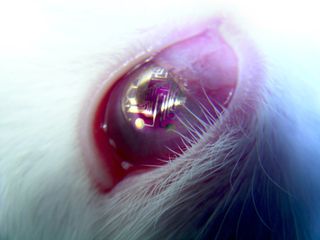 (Image credit: University of Washington)
If you've ever wanted to be the Bionic Woman or a Terminator, new research may at least let you see with their eyes. Scientists have taken the first step toward creating digital contact lenses that can zoom in on distant objects and display useful facts.
For the first time, engineers have installed an electronic circuit and lights on a regular contact lens.
The prototype they created does not actually light up or display information. But it proves that it is possible to build an electronic lens that is safe to wear and doesn't obstruct vision.
"Looking through a completed lens, you would see what the display is generating superimposed on the world outside," said Babak Parviz, an electrical engineer at the University of Washington who worked on the project. "This is a very small step toward that goal, but I think it's extremely promising."
The project was led by Harvey Ho, a former graduate student of Parviz's now working at Sandia National Laboratories in Livermore, Calif., who presented the results this week at the Institute of Electrical and Electronics Engineers' international conference on Micro Electro Mechanical Systems in Tucson, AZ.
It was difficult for the researchers to graft the tiny electrical circuits, built from layers of metal only a few nanometers thick (for comparison, the width of a typical human hair is about 80,000 nanometers), onto the contact lenses, which are made of organic materials that are safe for the body.
The engineers tested the finished lenses on rabbits for up to 20 minutes and the animals showed no problems.
Eventually, the technique could yield a plethora of gadgets. Perhaps drivers and pilots could see their direction and speed projected across their view, or people could surf the Web without looking at an external device's screen. Video gamers could immerse themselves in game landscapes directly in front of their eyes. Maybe the technique could even create sight aids for visually-impaired people.
"People may find all sorts of applications for it that we have not thought about," Parviz said. "Our goal is to demonstrate the basic technology and make sure it works and that it's safe."
Stay up to date on the latest science news by signing up for our Essentials newsletter.
Clara has a bachelor's degree in astronomy and physics from Wesleyan University, and a graduate certificate in science writing from the University of California, Santa Cruz. She has written for both Space.com and Live Science.