Hive in the Sky Gives Bees Urban Dwelling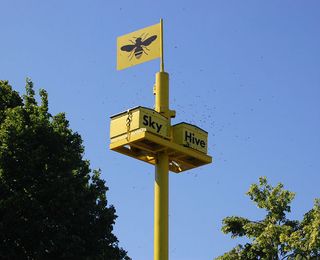 (Image credit: The Bee Collective.)
Urban beekeepers often keep their operations on the downlow for fear of violating local ordinances, but a new adjustable-height hive prototype being tested in Europe could mean sweet success all-around. Meet the "Sky Hive."
The Dutch city Maastricht, population around 120,000, is currently testing out a new system that places beehives on an adjustable stand that beekeepers crank up to the top of a pole nearly 20 feet tall. The bees get to do their thing while staying far above the potentially allergic and freaked-out public.
A local cooperative between beekeepers and designers called the Bee Collective pioneered the Sky Hive, which is intended to stimulate beekeeping in a contemporary living environment. The hive is located in Sphinxpark, a central area that once housed industrial factories and recently became a temporary park. Eventually the park will be developed into a residential quarter.
HSW: How do honeybees make honey?
Even in cities, bees can make an impressive amount of honey. One Toronto beekeeper's 14th floor apiary generated more than 600 pounds of honey last year. The Sky Hive isn't just limited to urban environments, either. It can work in the countryside as well, Inhabitat's Lori Zimmer pointed out.
Although a beekeeping ban was lifted in New York City two years ago, prompting several other communities to repeal their restrictions, it's still illegal in many cities around the country and the world. If the Dutch public and their bees can happily coexist in the middle of a city, it could offer other places a political compromise.
With the help of more bees, city-dwellers would have an easier time getting flowers, fruits and vegetables to thrive on their tiny balconies.
This story was provided by Seeker.
Stay up to date on the latest science news by signing up for our Essentials newsletter.