Is the Baltic Sea 'Sunken UFO' an Elaborate Scam?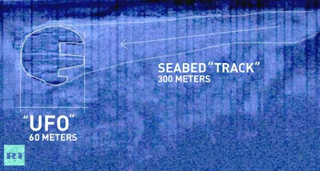 (Image credit: RT News)
The ocean explorers who discovered a huge, UFO-shape object on the floor of the Baltic Sea last year are having a heck of a time figuring out what it is.
A suspiciously hard time, some would say.
The Swedish divers, who call themselves the Ocean X Team, claim the object is giving off electrical interference that keeps foiling their attempts to investigate it. "Anything electric out there — and the satellite phone as well — stopped working when we were above the object," said diver Stefan Hoberborn in an Ocean X press release. "And then we got away about 200 meters and it turned on again, and when we got back over the object it didn't work."
As a result, there is still only one sonar image in existence of the 200-foot-wide (60-meter-wide) object, which UFO believers say is a crashed flying saucer. According to experts in remote imaging and geology, however, that image is "lacking in resolution, detail, and quantification," is riddled with "numerous processing artifacts" and looks like a spaceship only because the Ocean X team drew a Millennium Falcon-shape outline around it. Instead, the experts said, what the image shows is probably a roughly circular rock formation called a pillow basalt — rare, but very much of this world. [Gallery: Images of 'Sunken UFO']
Mysterious flying objects, and other unexplainable skylights, have long enticed the human imagination, from Roswell rumors to alien conspiracies on The X-Files. Have you ever seen a UFO? Do you believe the truth is out there?
UFO Quiz: What's Really Out There
Peter Lindberg, head of the Ocean X Team, either has let his imagination run wild or has an ulterior motive, according to Jonathon Hill, a researcher at the Mars Space Flight Facility at Arizona State University, who analyzes images of planetary surface features taken during NASA's Mars missions.
"Whenever people make extraordinary claims, it's always a good idea to consider for a moment whether they are personally benefiting from the claim or if it's a truly objective observation," Hill told Life's Little Mysteries.
"In this case, the team clearly has a lot to gain from an extraordinary claim," he said. "Mr. Lindberg is already making plans to take 'wealthy tourists' down in his submarine to view the object. If he had used a rock hammer to break off a small piece of the object, a geologist could have determined whether it was a pillow basalt in a few minutes. But if it turned out to be a pillow basalt and not a 'mysterious UFO-like object', Mr. Lindberg wouldn't have much of a business plan, would he?"
This story was provided by Life's Little Mysteries, a sister site to LiveScience. Follow Natalie Wolchover on Twitter @nattyover. Follow Life's Little Mysteries on Twitter @llmysteries. We're also on Facebook & Google+.
Stay up to date on the latest science news by signing up for our Essentials newsletter.
Natalie Wolchover was a staff writer for Live Science from 2010 to 2012 and is currently a senior physics writer and editor for Quanta Magazine. She holds a bachelor's degree in physics from Tufts University and has studied physics at the University of California, Berkeley. Along with the staff of Quanta, Wolchover won the 2022 Pulitzer Prize for explanatory writing for her work on the building of the James Webb Space Telescope. Her work has also appeared in the The Best American Science and Nature Writing and The Best Writing on Mathematics, Nature, The New Yorker and Popular Science. She was the 2016 winner of the Evert Clark/Seth Payne Award, an annual prize for young science journalists, as well as the winner of the 2017 Science Communication Award for the American Institute of Physics.