Formation of Planets in a Protoplanetary Disk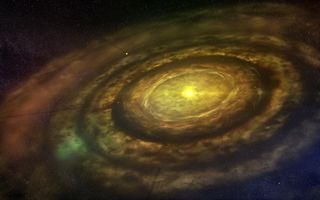 (Image credit: University of Copenhagen, Lars A. Buchhave)
Formation of planets in a protoplanetary disk. An artist conception of a newly formed star surrounded by a swirling protoplanetary disk of dust and gas, where debris coalesces to create rocky 'planetesimals' that collide and grow to eventually form planets. The results of this study show that small planets form around stars with a wide range of heavy element content suggesting that their existence might be widespread in the disk of the galaxy.
Stay up to date on the latest science news by signing up for our Essentials newsletter.
Space.com is the premier source of space exploration, innovation and astronomy news, chronicling (and celebrating) humanity's ongoing expansion across the final frontier. We transport our visitors across the solar system and beyond through accessible, comprehensive coverage of the latest news and discoveries. For us, exploring space is as much about the journey as it is the destination.