Robotic Arm is Amazingly Human-Like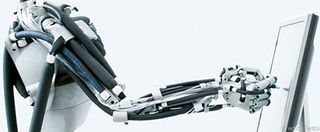 (Image credit: Festo)
Airic's arm is a robotic arm inspired by your own arm. The company describes it as a "combination of mechatronics and the biological model of a human being."
The mechanical foundation - the "skeleton" - of Festo's Airic's_arm is literally a metal version of the human skeletal structure. The radius and ulna (primary bones of the forearm), the metacarpals (hand and fingers) and the shoulder and shoulder blade are duplicated.
The musculature of the Festo Airic's_arm is comprised of Festo's "Fluidic Muscle," a pneumatic actuator of a type similar to those first demonstrated in the 1950's. Festo claims that their fluidic muscle design offers quicker repetition and high acceleration of mechanical parts, combined with a better power to weight ratio. The movements of the robotic arm are remarkably lifelike (see video).
Festo's Airic's_arm is a pretty good fit for a specialized robotic arm from the 1958 Harry Harrison story Simulated Trainer:
Try utilizing your own skeletal structure and "meat muscles:" click on one of these links to learn about other robotic arm research:
A radical hydrogen-peroxide-based power source gives this prosthetic limb its quickness and power.
An arm-wrestling simulator machine popular in arcades has been pulled from service due to three separate reports of injuries to human players.
The full Martin Luther bible copied out by a robotic (monk's!) hand.
Read more about Airic's_arm.
(This Science Fiction in the News story used with permission of Technovelgy.com - where science meets fiction
Stay up to date on the latest science news by signing up for our Essentials newsletter.
Bill Christensen catalogues the inventions, technology and ideas of science fiction writers at his website, Technovelgy. He is a contributor to Live Science.