Female Panda's Insemination Live-Tweeted by National Zoo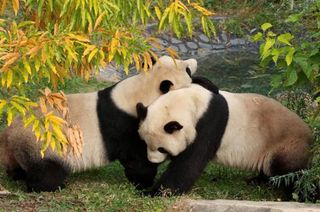 (Image credit: Mehgan Murphy, Smithsonian's National Zoo)
Spring is in the air, and baby panda-making is in the minds of zookeepers at the Smithsonian's National Zoo — if not those of their panda charges.
Zookeepers have decided to artificially inseminate female giant panda Mei Xiang, at the Washington, D.C., zoo today (April 30), and live tweet the proceedings. It's the second try, after a first insemination Sunday.
"One of our repro experts, Dr. Aiken-Palmer holds the next vial of 100,000 million sperm. 'It only takes one!'" tweeted Dave Wildt, National Zoo reproductive scientist and head of the Center for Species Survival.
The scientists are trying this technological intervention after a natural attempt fell flat. [Video: Panda Mating Dance]
"Veterinarians performed an artificial insemination Sunday night after they determined no competent natural breeding had occurred between Mei Xiang and male giant panda, Tian Tian (tee-YEN tee-YEN)," zoo officials wrote in a statement.
The two pandas have successfully bred before — Mei Xiang gave birth to cub Tai Shan in 2005 — but they aren't so good at getting it on themselves (Tai Shan was conceived via artificial insemination).
Furthermore, female pandas are fertile only one to two days a year, so zookeepers had to seize the rare opportunity.
Giant pandas, native to southeastern China, northern Myanmar, and northern Vietnam, are now endangered; only 1,600 pandas are left in the wild. Captive breeding is a chief part of scientists' efforts to study and conserve the species.
Plus, baby pandas are heart-meltingly cute, and present a big draw for any zoo. The National Zoo had to send Tai Shan back to China in 2010, because all pandas, regardless of where they are born, officially belong to China under international law. Mei Xiang and Tian Tian are on loan to the United States until 2015.
"Mei Xiang is 13 and the mother of Tai Shan, who was born in 2005 and beloved in DC. Baby pandas= #pandamania! #pandaAI," Wildt tweeted under the National Zoo's Twitter account, @NationalZoo.
For today's artificial insemination, zookeepers are using sperm from Tian Tian harvested back when Tai Shan was born.
"While under general anesthesia, Mei Xiang was inseminated with thawed semen collected from Tian Tian in 2005," zoo officials wrote. "Scientists determined that the fresh semen collected from Tian Tian last night was not high enough quality to use for the artificial insemination. Zoo staff will continue to monitor Mei Xiang's hormone levels in the coming months and conduct ultrasounds to see if she is pregnant." (But even figuring out if a female panda is pregnant can be tricky; it is often difficult to identify a panda fetus through an ultrasound. And female giant pandas, inlcuding Mei Xiang, regularly undergo pseudo-pregnancies, which mimic the real thing to a tee, sans the developing infant.)
The zoo has invited those who want to follow the panda action live to tweet their questions using the hastag #pandaAI.
You can follow LiveScience senior writer Clara Moskowitz on Twitter @ClaraMoskowitz. Follow LiveScience for the latest in science news and discoveries on Twitter @livescience and on Facebook.
Stay up to date on the latest science news by signing up for our Essentials newsletter.
Clara has a bachelor's degree in astronomy and physics from Wesleyan University, and a graduate certificate in science writing from the University of California, Santa Cruz. She has written for both Space.com and Live Science.