Thoreau's Notes Reveal How Spring Has Changed in 150 Years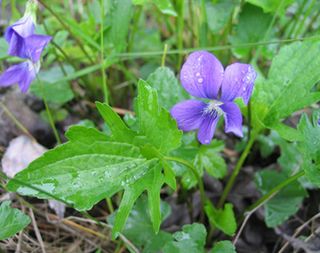 (Image credit: Abe Miller-Rushing, Richard Primack)
Springtime in Concord, Mass., has changed since the town was home to Henry David Thoreau, and the writer himself has helped scientists figure out how.
So have other naturalists, whose written records of the plants and animals around them have helped researchers decipher how climate change has affected eastern Massachusetts and beyond.
Beginning in 1851, Thoreau scribbled records of the timing of the first spring flower blooms in his journals.
A century and a half later, Richard Primack, a professor of biology at Boston University, and his then-graduate student, Abe Miller-Rushing, followed in the writer's footsteps, observing the habits of the same species. [Gallery: Signs of Early Spring in Brooklyn]
An analysis of Thoreau's observations, those of another 19th-century naturalist and their own modern records indicate the first flowering date for 43 of the most common species has moved up by an average of 10 days. What's more, species that aren't shifting their flowering times in response to warmer springs are disappearing.
"Even though the world around us has changed quite a bit we were able to do roughly the same fieldwork he did," said Miller-Rushing, who is now the science coordinator for the Schoodic Education and Research Center, Acadia National Park, in Maine. "He couldn't possibly have been thinking about the things we are using his data for today."
Looking back
This research began with some historical detective work.
About 10 years ago, Primack decided to look for examples of how climate change was affecting the plants and animals in Massachusetts. At the time, little work had taken place in the eastern U.S., he said.
There are two well-documented ways in which plants and animals respond to climate change: They can shift their ranges, moving farther up a mountain side, for example; and they can shift the timing of seasonal events (called phenology), like blooming, leafing or migrations. Primack was mainly interested in the latter, though to get any sense of real change he'd need decades or more of data.
"Scientists by and large don't have the records we need to understand how a lot of these things are changing," Miller-Rushing said. "The records dog walkers or bird watchers or fishermen have been collecting can really add a lot of important information."
So, Primack and his students went looking for them. The first record they analyzed and published came from Kathleen Anderson, an amateur naturalist who recorded what she saw on her farm in Middleborough, Mass., for decades. Without knowing at the time, Anderson had documented progressively earlier spring activity in 22 of the 24 species as local average annual temperatures rose by 3.6 degrees Fahrenheit (2 degrees Celsius) over 30 years, the researchers estimate.
150 years in Concord
Primack also tracked down an independent Thoreau scholar, Brad Dean, who had Thoreau's records of flowering dates in Concord.
"He said he was expecting a climate change biologist to contact him; he knew they were important," Primack said of the records, which given Thoreau's notoriously bad handwriting and his use of outdated plant names, required some deciphering.
They had also located similar records kept by the botanist Alfred Hosmer, who followed in Thoreau's footsteps by recording flowering times around the turn of the 20th century.
Moving on up
The researchers looked at three years of their own data, ending in 2006, alongside Thoreau's and Hosmer's and found that 43 common species were flowering seven days earlier on average than they did in Thoreau's time. During this century and a half, Concord's average temperature warmed by 4.3 F (2.4 C).
Urban areas — like Boston's metropolitan area, to which Concord belongs — are warming faster than other places, thanks to the urban heat island effect, which happens when artificial surfaces, such as pavement and sidewalks, absorb heat during the day.
More recently, the researchers added data from 2008, 2009 and 2010 to the analysis (2010 brought the warmest April on record to the Boston area). The new analysis, published in the February 2012 issue of the journal BioScience, indicated an additional three-day advance, so the flowers now bloom 10 days earlier on average.
Primack noted that the flowers are following changes in temperature, so they tend to bloom earlier in warm springs, like 2010, and later in cool springs, like 2003. "The years are now, on average, just much warmer than in Thoreau's time," he said.
Observations made by volunteers tracking seasonal events for the USA National Phenological Network may corroborate some of Primack and Miller-Rushing's more recent results by suggesting trees in the region got their first leaves unusually early in 2010. [Citizen Scientists Chart Shifts in Seasons]
The consequences
The average advancements for Concord's spring flowers are only averages. Not all species are responding the same way to warmer springs ­— some adjust their timing and some don't.
Primack, Miller-Rushing and colleagues from Harvard University found that the species with inflexible flowering times were disappearing from Concord. For instance, in Thoreau's time, 21 species of orchids grew wild in Concord, and today it's only possible to find about six, Primack said.
"What that result tells us is climate change is not only affecting flowering time but also affecting the abundance of species in Concord," he said. "Warming temperature is causing some species to be winners and some species to be losers."
You can follow LiveScience senior writer Wynne Parry on Twitter @Wynne_Parry. Follow LiveScience for the latest in science news and discoveries on Twitter @livescience and on Facebook.
Stay up to date on the latest science news by signing up for our Essentials newsletter.
Wynne was a reporter at The Stamford Advocate. She has interned at Discover magazine and has freelanced for The New York Times and Scientific American's web site. She has a masters in journalism from Columbia University and a bachelor's degree in biology from the University of Utah.