Dogs Understand Us Better Than Chimps Do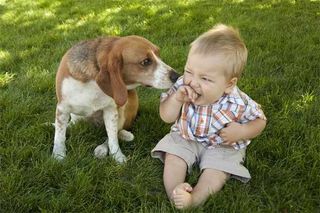 (Image credit: Mark Philbrick/BYU.)
Chimpanzees may be our closest living relatives, but they do not understand us as well as dogs do.
The study in the latest issue of PLoS ONE. found that chimpanzees could care less when people pointed to objects, but dogs paid attention and knew precisely what the person wanted.
NEWS: Can Dogs Read Minds? Not Exactly
"We think that we are looking at a special adaptation in dogs to be sensitive to human forms of communication," co-author Juliane Kaminski, a cognitive psychologist at the Max Planck Institute for Evolutionary Anthropology, told Discovery News. "There is multiple evidence suggesting that selection pressures during domestication have changed dogs such that they are perfectly adapted to their new niche, the human environment."
Dogs may even be born with this inherent gift, since 6-week-old puppies with no major training possess it.
For the study, Kaminski and her colleagues compared how well chimpanzees and dogs understood human pointing. The person pointed at a visible object out of reach of the human but within reach of the animal subject. If the chimp or dog retrieved the object, he or she would be rewarded with a tasty food treat. (Chimps received fruit juice or peanuts, while dogs got dry dog food.)
The chimps bombed, ignoring the human gestures, even though they were interested and motivated to get the food rewards. The dogs aced the test.
The chimpanzees failed to comprehend the referential intention of the human in the task. They did not see the pointing as important to their goal of getting the food, so they simply ignored the people during the study.
"We know that chimpanzees have a very flexible understanding of others," Kaminski said. "They know what others can or cannot see, when others can or cannot see them, etc."
Chimps are therefore not clueless, but they have likely not evolved the tendency to pay attention to humans when trying to achieve goals.
Kaminski explained that even wolves do not have this skill.
"Wolves, even when raised in a human environment, are not as flexible with human communication as dogs," she said. "Dogs can read human gestures from very early ages on."
As for cats, prior research found that domesticated felines also pay attention to us and can understand human pointing gestures. Kaminski, however, mentioned that "the researchers had to select them out of many hundreds of cats, " suggesting that only certain house kitties are on par with dogs when it comes to understanding people.
The breed of the animal may also factor in, according to Márta Gácsi, from Eötvös University, Hungary. Gácsi worked with a team of researchers to examine the performance of different breeds of dogs in making sense of the human pointing gesture.
The scientists found that gun dogs and sheep dogs were better than hunting hounds, earth dogs (dogs used for underground hunting), livestock guard dogs and sled dogs at following a pointing finger.
NEWS: Dogs Probably Feel Sorry For Us
"Although these results may appear to be unsurprising, there is a common tendency to make assumptions about genetic explanations for differences in comprehension between 'dogs' and wolves," Gácsi said. "Our results show that researchers must be careful to control for animal breed when carrying out behavioral experiments."
With chimps added to the study mix, researchers are now puzzled, as popular theories about communication hold that certain core abilities can be inherited. Chimpanzees are so close to us on the primate family tree, and yet they cannot seem to understand our pointing gestures. This suggests that pointing may be a unique form of human communication, but dogs challenge the hypothesis.
Kaminski said, "We therefore need to study in more detail the mechanisms behind dogs' understanding of human forms of communication."
This article was provided by Discovery News.
Stay up to date on the latest science news by signing up for our Essentials newsletter.