Infants' Sleep Woes May Persist into Toddlerhood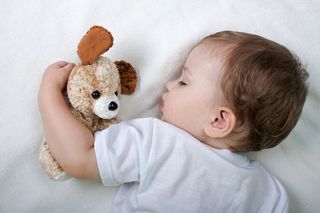 Infants who have trouble falling and staying asleep might be at risk for persistent sleep problems throughout their early childhood, a new study suggests.
Researchers asked 359 mothers to fill out a questionnaire to learn whether their infants and toddlers had trouble sleeping.
They found that 10 percent of children were reported to have a sleep problem at some point during early childhood, and that the problems that developed in young infants tended to persist through toddlerhood.
"Research shows that if you deprive a child of sleep, it could have an impact on their daily functioning," said Dr. Hari Bandla, a pediatric sleep specialist at the University of Chicago Medical Center, who was not involved with the study.
"If they don't get enough sleep based on their age, it can change how they function day-to-day," Bandla said. "Lack of sleep or poor sleep can negatively affect their learning, a crucial part of their development."
The study is published online today (Jan. 4) in the journal Pediatrics.
Sleep is crucial for a child's development
The new study is the first to investigate the prevalence of sleep problems in infants and toddlers under age 3. About 70 percent of children 10 years or younger experience some type of sleep problem, according to the National Sleep Foundation's 2004 Sleep in America poll, which was based on about 1,500 children.
Sleep problems can include having nightmares, insomnia, restless legs syndrome, night terrors and sleep apnea, which is a sleep disorder that may cause someone to briefly stop breathing while sleeping. These problems could result in poor sleep that makes you tired during the day.
Studies have shown that if left untreated, sleep apnea is associated with an increased risk of high blood pressure, heart disease, obesity and diabetes.
In the new study, mothers filled out questionnaires when children were 6 months, 1 year, 2 years and 3 years old.
The moms reported that 20 to 35 percent of children who had sleep problems at the start of the study continued to have problems two and half years later, whereas only 6 to 8 percent of kids without sleep problems at the start were having them later.
Night wakings and less sleep time were problems that moms commonly reported in children ages 6 months to 2 years, while nightmares and restless sleep were reported in children who were 1 to 3 years old.
Researchers also found that moms who reported that their child snored didn't perceive it to be a problem. The survey showed that 12 to 20 percent of children snored many nights during week.
"Snoring is something parents should pay more attention to," Bandla said. "It's considered a normal part of sleep, but parents should be aware that snoring is an important symptom for sleep apnea. If their child is snoring, they should talk with their doctor about it."
What parents can do
Study co-author Kelly Byars, a sleep specialist at Cincinnati Children's Hospital Medical Center, recommended that parents monitor their children's sleeping habits, especially at bedtime.
"If it takes longer than 15 to 20 minutes for a child to go to sleep, there might be a problem," Byars said.
He noted that while it's completely normal for children to wake up two to four times during the night, a child who can't go back to sleep may have a problem.
"You end up having a child and parent not getting enough sleep, which disrupts their mood, and has an impact on their daytime functioning," Byars said.
One way for parents to address a child's difficulty falling asleep is to develop a consistent bedtime schedule, Byars suggested.
He recommended putting the child to bed when they are drowsy, but awake. If the child can't fall asleep, he suggests checking on them periodically, reassuring them briefly, but avoid taking them out of their crib or bedroom.
Pass it on: Sleep problems in kids may start infancy and persist through toddlerhood.
This story was provided by MyHealthNewsDaily, sister site to LiveScience. Follow MyHealthNewsDaily on Twitter @MyHealth_MNHD. Like us on Facebook.
Stay up to date on the latest science news by signing up for our Essentials newsletter.