Kids' Sleep Problems May Benefit from School Screenings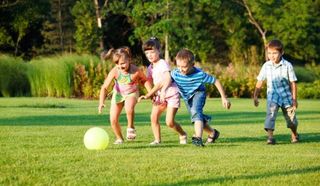 (Image credit: Anatoliy Samara | Dreamstime)
Screening young children for sleep problems, then providing help for those who need it, may benefit kids during their first year of school, a new study suggests.
The study, published today in the journal Pediatrics, marks the first time researchers have looked at a large-scale, school-based screening and treatment program for children with sleep problems.
Researchers from the Royal Children's Hospital in Melbourne, Australia asked 1,512 parents to fill out a survey to learn whether their children had trouble sleeping. With the parents' permission, they then divided 108 children (whose average age was 5.7 years) with moderate to severe sleep problems into two groups.
One group of children received help tailored to their specific sleep problem. During two or three sessions, parents were taught "behavioral sleep strategies" designed to help their child sleep better for instance, some parents were told to limit their child's caffeine consumption or put their child to bed at the same time every night. The other group served as a control.
"We know that sleep problems are present in up to 40 percent of school children, and these problems are associated with poorer child behavior, social and emotional problems and [difficulty] learning," said study co-author Jon Quach, a researcher with Royal Children's Hospital.
Months later, children whose parents received help with their sleep problems fared better than children in the control group, researchers said.
After three months, sleep problems affected 33 percent of the children who received help, and 43 percent of children in the control group. By six months, that difference had grown to 26 percent and 47 percent, respectively.
Effects tapered off
But, the benefits of these behavioral sleep strategies eventually tapered off.
By 12 months, sleep problems affected both groups about the same: sleep problems affected 32 percent of children who received help and 33 percent children in the control group.
That result isn't unexpected, Quach said. Previous research shows that 50 percent of kids' sleep problems will naturally resolve after two years, he said.
"However, we believe the faster resolution of sleep problems for [kids in the treatment group] has positive benefits for the child and their family through improving daily functioning quicker," he said.
Those benefits included improvements to the children's social and emotional behavior the study didn't detect any significant difference in school performance. However, social and emotional behavior is important for young children, Quach said.
"They are recognized as two out of the five important child attributes which enable children to be ready for school, and to make a successful transition from preschool to formal education," he said.
Other studies have shown the positive effects of good sleep on school performance by "using more intensive and complicated assessments," Quach continued.
Sleep and school
Improvements in school performance might have been evident if the researchers studied more children, said Sangeeta Chakravorty, Director of the Pediatric Sleep Evaluation Center at Children's Hospital of Pittsburgh. "In order to detect subtle differences like this, you really need a large sample size," she said.
Still, the study provides useful information, Chakravorty said. "Good sleep habits can set a foundation for healthy school experience," she said. "Insufficient sleep can lead to daytime irritability, impaired attention and impaired memory."
Quach agreed that the study would have benefited from a larger sample size. "We did not have enough power to detect some benefits measured," he said. "However, if the observed differences between our groups were true, they would be important at the population level."
In the future, studies could look at how training school nurses to detect and treat sleep problems could help school children in real-life situations, Quach said.
Pass it on: Children with sleep problems entering their first year of school may benefit socially and psychologically from simple behavior techniques designed to help kids sleep better.
Follow MyHealthNewsDaily on Twitter @MyHealth_MHND. Find us on Facebook.
Stay up to date on the latest science news by signing up for our Essentials newsletter.