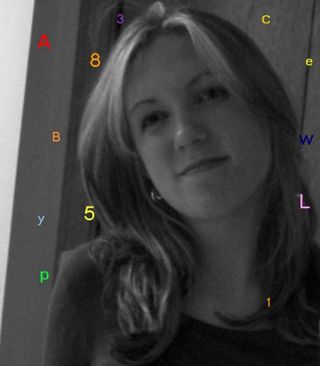 (Image credit: Ingrid Carey)
When Ingrid Carey says she feels colors, she does not mean she sees red, or feels blue, or is green with envy. She really does feel them.
She can also taste them, and hear them, and smell them.
The 20-year-old junior at the University of Maine has synesthesia, a rare neurological condition in which two or more of the senses entwine. Numbers and letters, sensations and emotions, days and months are all associated with colors for Carey.
The letter "N" is sienna brown; "J" is light green; the number "8" is orange; and July is bluish-green.
The pain from a shin split throbs in hues of orange and yellow, purple and red, Carey told LiveScience.
Colors in Carey's world have properties that most of us would never dream of: red is solid, powerful and consistent, while yellow is pliable, brilliant and intense. Chocolate is rich purple and makes Carey's breath smell dark blue. Confusion is orange.
Scientific acceptance
Long dismissed as a product of overactive imaginations or a sign of mental illness, synesthesia has grudgingly come to be accepted by scientists in recent years as an actual phenomenon with a real neurological basis. Some researchers now believe it may yield valuable clues to how the brain is organized and how perception works.
"The study of synesthesia [has] encouraged people to rethink historical ideas that synesthesia was abnormal and an aberration," says Amy Ione, director of the Diatrope Institute, a California-based group interested in the arts and sciences.
The cause remains a mystery, however.
According to one idea, irregular sprouting of new neural connections within the brain leads to a breakdown of the boundaries that normally exist between the senses. In this view, synesthesia is the collective chatter of sensory neighbors once confined to isolation.
Another theory, based on research conducted by Daphne Maurer and Catherine Mondloch at McMaster University in Ontario, Canada, suggests all infants may begin life as synesthetes. In this way of thinking, animals and humans are born with immature brains that are highly malleable. Connections between different sensory parts of the brain exists that later become pruned or blocked as an organism matures, Mondloch explained.
Maurer and Mondloch hypothesize that if these connections between the senses are functional, as some experiments suggest, then infants should experience the world in a way that is similar to synesthetic adults.
In a variation of this theory, babies don't have five distinct senses but rather one all-encompassing sense that responds to the total amount of incoming stimulation. So when a baby hears her mother's voice, she is also seeing it and smelling it.
Technology lags
Maurer and Mondloch's pruning hypothesis is intriguing, says Bruno Laeng, a psychology professor at the University of Tromso, Norway. But he adds a caution.
"At present, we do not have the technology to observe brain-connection changes in the living human brain and how these relate to mental changes," Laeng said in an email interview.
Like other scientists, Laeng also questions whether synesthesia needs such extra neural connections in order to occur. Advancements in current brain imaging techniques may one day allow the pruning hypothesis to be tested directly, he said.
According to another theory that does not rely on extra connections, synesthesia arises when normally covert channels of communications between the senses are exposed to the light of consciousness.
All of us are able to perceive the world as a unified whole because there is a complex interaction between the senses in the brain, the thinking goes. Ordinarily, these interconnections are not explicitly experienced, but in the brains of synesthetes, "those connections are 'unmasked' and can enter conscious awareness," said Megan Steven, a neuroscientist at Beth Israel Deaconess Medical Center.
Because this unmasking theory relies on neural connections everyone has, it may explain why certain drugs, like LSD or mescaline, can induce synesthesia in some individuals.
'Like I'm crazy'
Many synesthetes fear ridicule for their unusual abilities. They can feel isolated and alone in their experiences.
"Most people that I'd explain it to would either be fascinated or look at me like I'm crazy," Carey said. "Especially friends who were of a very logical mindset. They would be very perplexed."
The study of synesthesia is therefore important for synesthetes, says Daniel Smilek, an assistant psychology professor at the University of Waterloo in Ontario, Canada.
Research is revealing synesthetes to be a varied bunch.
Smilek and colleagues have identified two groups of synesthetes among those who associate letters and numbers with colors, he explained in a telephone interview. For individuals in one group, which Smilek calls "projector" synesthetes, the synesthetic color can fill the printed letter or it can appear directly in front of their eyes, as if projected onto an invisible screen. In contrast, "associate" synesthetes see the colors in their "mind's eye" rather than outside their bodies.
In Carey's case, the colors appear in quick flashes right behind her eyes, blinking in and out of existence as quickly as ocean foam. Other times they linger, coalescing and dividing like sunlight on the surface of a soap bubble.
'No mere curiosity'
Other subgroups have also been identified.
The synesthesia of those in the "perceptual" category is triggered by sensory stimuli like sights and sounds, whereas "conceptual" synesthetes respond to abstract concepts like time. One conceptual synesthete described the months of the year as a flat ribbon surrounding her body, each month a distinct color. February was pale green and oriented directly in front of her.
Richard Cytowic, a neuroscientist and author of "The Man Who Tasted Shapes" (Bradford Books, 1998), has watched the scientific shift in attitudes toward the condition in recent years.
"Many of my colleagues claimed that synesthesia was 'made up' because it went against prevailing theory," Cytowic told Live Science. "Today, everyone recognizes synesthesia as no mere curiosity but important to fundamental principles of how the brain is organized."
Stay up to date on the latest science news by signing up for our Essentials newsletter.