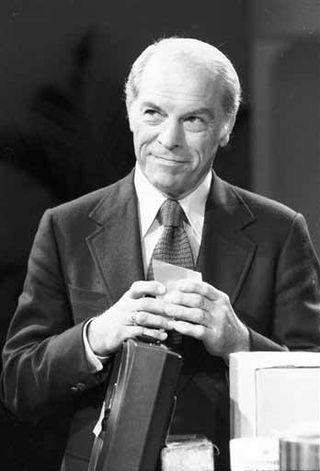 (Image credit: AP Photo/David Pickoff, file)
LOS ANGELES (AP) -- Don Herbert, who as television's "Mr. Wizard'' introduced generations of young viewers to the joys of science, died Tuesday. He was 89.
Herbert, who had bone cancer, died at his suburban Bell Canyon home, said his son-in-law, Tom Nikosey.
"He really taught kids how to use the thinking skills of a scientist,'' said former colleague Steve Jacobs. He worked with Herbert on a 1980s show that echoed the original 1950s "Watch Mr. Wizard'' series, which became a fond baby boomer memory.
In "Watch Mr. Wizard,'' which was produced from 1951 to 1964 and received a Peabody Award in 1954, Herbert turned TV into an entertaining classroom. On a simple, workshop-like set, he demonstrated experiments using household items.
"He modeled how to predict and measure and analyze. ... The show today might seem slow but it was in-depth and forced you to think along,'' Jacobs said. "You were learning about the forces of nature.''
Herbert encouraged children to duplicate experiments at home, said Jacobs, who recounted serving as a behind-the-scenes "science sidekick'' to Herbert on the '80s "Mr. Wizard's World'' that aired on the Nickelodeon channel.
When Jacobs would reach for beakers and flasks, Herbert would remind him that science did not require special tools.
"'You could use a mayonnaise jar for that,''' Jacobs recalled being chided by Herbert. "He tried to bust the image of scientists and that science wasn't just for special people and places.''
Herbert's place in TV history was acknowledged by later stars. When "Late Night with David Letterman'' debuted in 1982, Herbert was among the first-night guests.
Born in Waconia, Minnesota, Herbert was a 1940 graduate of LaCrosse State Teachers College and served as a U.S. Army Air Corps pilot during World War II. He worked as an actor, model and radio writer before starting "Watch Mr. Wizard'' in Chicago on NBC.
The show moved to New York after several years.
He is survived by six children and stepchildren and by his second wife, Norma, his son-in-law said.
The Biggest Popular Myths
Life's Little Mysteries
Stay up to date on the latest science news by signing up for our Essentials newsletter.