Confederate Flying Machine Will Rise Again at Auction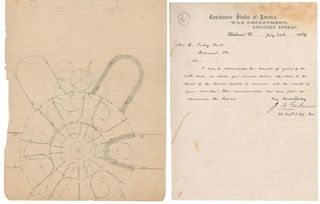 While Rebel and Union soldiers still fought it out with bayonets and cannons, a Confederate designer had the foresight to imagine flying machines attacking Northern armies. He couldn't implement his vision during the war, and the plans disappeared into history, until resurfacing at a rare book dealer's shop 150 years later. Now those rediscovered designs have found their way to the auction block, providing a glimpse at how Victorian-era technology could have beat the Wright Brothers to the punch.
The papers of R. Finley Hunt, a dentist with a passion for flight, describe scenarios where flying machines bombed Federal troops across Civil War battlefields. Hunt's papers are set to go up for sale at the Space and Aviation Artifacts auction during the week of Sept. 15-22, giving one lucky collector a chance to own a piece of an alternate technological history that never came to pass.
"It's incredible for someone who loves early aviation, because it poses the great question of 'What if?'" said Bobby Livingston, vice president of sales and marketing with RR Auction. "What if planes had appeared above the wilderness when [Union general Ulysses S.] Grant began his campaign in the Shenandoah Valley?"
The hardback collection includes pencil drawings of wings, propellers and a multicylinder steam engine. Hunt's designs drew inspiration from his love of studying any and all flying methods found in nature, despite his own lack of professional expertise.
But Hunt found it difficult to find an engineer willing to build the device, despite getting the help of Confederate president Jefferson Davis to have the proposal considered. Letters between Hunt and a Confederate review board show that other engineers had strong doubts about the "steam flying machine."
First, the engineers said Hunt had dramatically overestimated the engine's power and ability to keep the machine flying. They also described another error in Hunt's reasoning as being "so obvious on reflection that no discussion is required."
"When they turned him down, it was over the science of it," Livingston told InnovationNewsDaily. "But they considered it, and considered it a lot."
Hunt refused to take no for an answer. The papers include another letter to Confederate president Jefferson Davis, wherein Hunt tries to defend his flying theories and asks for assistance from a machinist. In the end, the Confederates decided against spending money to fund the project.
Still, the Confederates did deploy several other innovative war machines. Their ironclad steamship, the C.S.S. Virginia, fought against the U.S.S. Monitor in the world's first duel between ironclads. A Confederate submarine called the H.L. Hunley also made its mark in history as the first submarine to successfully sink an enemy ship.
Both the Union and Confederate sides also flew manned balloons to scout different battlefields.
As for Hunt, he went to Washington, D.C., and got a U.S. patent on his device after the Civil War ended in 1865. He also built several working models and was still attempting to get financing in 1872. Yet he never saw his vision take flight.
"It looks to me like he's 40 years before the Wright brothers with a rotary engine driving propellers, but I don't know how close he was," Livingston said. "He never got the money to do it."
This story was provided by InnovationNewsDaily, a sister site to Live Science. You can follow InnovationNewsDaily senior writer Jeremy Hsu on Twitter @ScienceHsu. Follow InnovationNewsDaily on Twitter @News_Innovation, or on Facebook.
Stay up to date on the latest science news by signing up for our Essentials newsletter.
Jeremy has written for publications such as Popular Science, Scientific American Mind and Reader's Digest Asia. He obtained his masters degree in science journalism from New York University, and completed his undergraduate education in the history and sociology of science at the University of Pennsylvania.