Small Parks Could Cool Big Cities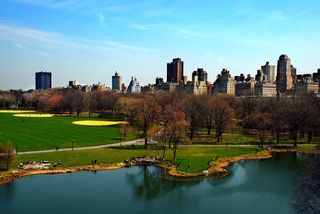 A little bit of greenery in urban areas can cool off the hotter and stickier summers that city residents face as a result of global warming, new research show. An additional 10 percent more green space could reduce surface temperatures by 7 degrees Fahrenheit, according to a team of British scientists. Extra parks and green roofs could counteract the predicted rise in temperature until 2080 when summers are expected to be hotter and drier and winters wetter. Because American cities are more prone than British cities to high summer temperatures, University of Manchester biologist Roland Ennos said green space has an even more important function in the United States. In cities around the world, planting more grass and trees could keep people more comfortable and reduce air conditioning costs and energy expenditures, Ennos said. "It should make life more pleasant climatically," Ennos told LiveScience. "Many studies have also shown that it improves people's physical and mental health, sense of wellbeing, and can result in reductions in crime." The research, published in the current issue of the journal Built Environment, coincides with President Bill Clinton's announcement Wednesday that 15 cities, including New York and London, will update city-owned buildings with energy-efficient technology to cut carbon emissions. On sunny days, urban areas such as downtown sections of American cities can be up to 22 degrees Fahrenheit hotter than more rural areas. But the research team found that adding green space can minimize the "urban heat island" effect, which involves the fact that plants collect and retain water more efficiently than skyscrapers and parking lots. When the water evaporates from leaves on plants and trees, it cools off the air nearby, just like evaporating sweat cools us down. Although Ennos' models suggest green space will decrease temperatures, it will not be able to absorb the rainfall from the more frequent and 50 percent larger winter storms predicted to hit Manchester by 2080, he said. Left unabsorbed, the rainwater is expected to flow to city drains and travel to streams and rivers, ending up in the ocean. "Unfortunately, increasing the amount of green space only has a limited effect in reducing run-off, and so flash flooding will become an increasing problem in our cities," Ennos said. Floods could be prevented with more rainwater storage, he said, which might keep the city's green space irrigated during the droughts expected in summer months.
15 Cities to Go Green Under Clinton Plan
What's Your Environmental Footprint?
Stay up to date on the latest science news by signing up for our Essentials newsletter.
Corey Binns lives in Northern California and writes about science, health, parenting, and social change. In addition to writing for Live Science, she's contributed to publications including Popular Science, TODAY.com, Scholastic, and the Stanford Social Innovation Review as well as others. She's also produced stories for NPR's Science Friday and Sundance Channel. She studied biology at Brown University and earned a Master's degree in science journalism from NYU. The Association of Health Care Journalists named her a Centers for Disease Control and Prevention Health Journalism Fellow in 2009. She has chased tornadoes and lived to tell the tale.