Central U.S. Warned of Larger Earthquakes to Come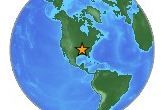 A moderate earthquake that rattled parts of Arkansas and Tennessee Thursday should serve as a wake-up call to the central United States about the potential for much stronger events, experts said.
The temblor, preliminarily put at magnitude 4.1, shook eastern Arkansas and western Tennessee early in the morning. It was centered 47 miles north-northwest of Memphis.
There were no reports of significant damage.
"Although today's earthquake was what we characterize as 'light,' this area is capable of producing an earthquake that can result in significant loss of life and property damage," said Charles "Chip" Groat, director of the U.S. Geological Survey.
Groat pointed out that the region was host to the strongest earthquake on record in the lower 48 United States.
Midwest record-setters
The infamous series of three New Madrid quakes in 1811-1812 occurred a few weeks apart, from Dec. 16 to Feb. 7. They measured 8.1, 8.0 and 7.8 and represent three of the four strongest earthquakes ever recorded in the lower 48.
"Strong earthquakes in the New Madrid seismic zone are certain to occur in the future," states a USGS fact sheet. "There is a 9-in-10 chance of a magnitude 6 to 7 temblor occurring in the New Madrid Seismic Zone within the next 50 years."
The New Madrid fault's remarkable spree of shifts devastated the sparsely populated area at the time. Amazingly, the quakes were so strong they were felt in much of the country -- as far away as Boston. Damage was reported as far away as Charleston, South Carolina, and Washington, D.C.
Differences in geology east of the Rockies account for the widespread effects, geologists say.
Though similar in strength, an earthquake East of the rockies is felt across a wider area. SOURCE: USGS
The strongest of the New Madrid events was 10 times more intense than the 1906 San Francisco earthquake, scientists say. Earthquakes of similar intensity occurred around the year 900 and again in the middle 1400s along the New Madrid fault, named for a small town in Missouri.
Good-sized temblors, the sort that can topple brick facades or bring down poorly designed bridges, rattled the New Madrid seismic zone in 1843 (6.3-magnitude) and 1895 (6.6-magnitude).
All this taken into account, plus the much larger population in the danger zone now, suggests a magnitude 7 quake on the New Madrid fault today "could be far worse than those of the 1989 magnitude 7 Loma Prieta, California, earthquake," according to the USGS. That rattle of the bay, which struck the San Francisco area during the World Series, killed 63 people and caused $6 billion in damage.
Not prepared
In California and other parts of the West, many old buildings and roadways have been retrofitted to largely endure earthquakes in the magnitude 6 to 7 range. But buildings in the New Madrid fault region constructed before modern building codes were put in place typically are not retrofitted, according to a USGS statement.
"This earthquake is an opportunity to gather more knowledge about the region's seismic risk and incorporate it into safer buildings," Groat said.
The regional Center for Community Earthquake Preparedness issued a statement Thursday saying the quake "underscores the need for Mid-South emergency management officials to have a seismic response plan ready." The CCEP is staffed by engineers and geologists from the University of Mississippi.
The Top 10
Here are the Top 10 U.S. earthquakes for all 50 states, according to the USGS:
1. Prince William Sound, Alaska 1964, 9.2 2. Andreanof Islands, Alaska 1957, 9.1 3. Rat Islands, Alaska 1965, 8.7 4. East of Shumagin Islands, Alaska 1938, 8.2 5. New Madrid, Missouri 1811, 8.1 6. Yakutat Bay, Alaska 1899, 8.0 7. Andreanof Islands, Alaska 1986, 8.0 8. New Madrid, Missouri 1812, 8.0 9. Near Cape Yakataga, Alaska 1899, 7.9 10. Fort Tejon, California 1857, 7.9
The largest earthquake in the world since measurements have been made was a 9.5-magnitude event that shook Chile in 1960. The 1964 Alaskan quake had held the No. 2 spot globally until this week, when scientists provided an updated estimate of the Dec. 26, 2004 tsunami-causing Sumatran earthquake. That subsea event has now been pegged at 9.3.
Scientists note that all of the magnitude numbers are estimates, especially the historical temblors for which there exist little or no reliable instrumented measurements.
Related Stories
Quake Death Toll in 2004 Could Be Worst Since 1556
Ominous Rumbling Under San Andreas Fault
Billion Dollar Weather Disasters
Stay up to date on the latest science news by signing up for our Essentials newsletter.
Robert is an independent health and science journalist and writer based in Phoenix, Arizona. He is a former editor-in-chief of Live Science with over 20 years of experience as a reporter and editor. He has worked on websites such as Space.com and Tom's Guide, and is a contributor on Medium, covering how we age and how to optimize the mind and body through time. He has a journalism degree from Humboldt State University in California.