Reliance On Foreign Oil Can Cost U.S. Lives, Panel Says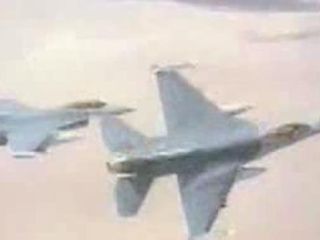 WASHINGTON – An F-16 fighter jet can burn 28 gallons of fuel per minute when lighting up the afterburners. Such a powerful machine represents the fighting punch of the U.S. military, but American servicemen and women often pay a high price because of the military's reliance upon fossil fuels from foreign countries, said a panel of Navy officials and congressional representatives at the ARPA-E Energy Innovation Summit here today (March 2).
Getting fuel to U.S. Marines on the frontlines in Helmand Province, Afghanistan comes at the human cost of roughly one life of a soldier or Marine for every 24 convoys. On top of the sorrow of military families, the U.S. military's oil dependence can give strategic clout to enemies and hits taxpayer wallets hard, , said Navy and congressional speakers at the summit. "When the price of oil goes up, the price of defending this country goes up," said Raymond Mabus, Secretary of the Navy, during a keynote speech.
The U.S. Navy spends $31 million more for operations every time a barrel of oil increases by just a dollar, Mabus said. That translates into about $1 billion more if oil prices go up by $30 per barrel, as price spikes have historically shown.
Some of that oil used by the U.S. military goes toward fueling C-17 transport aircraft, which guzzle 3,000 gallons of fuel an hour, or Stryker fighting vehicles which "get 7 miles per gallon on a good day," said Rep. Steve Israel (D-N.Y.) during his summit speech.
The energy bill for the U.S. Department of Defense hit $20 billion in 2008. Based on U.S. import estimates, more than 50 percent of that came from foreign sources.
"We would never allow these folks to build our ships, our aircraft or our ground vehicles," Mabus told the summit attendees."But we give them a say in whether our ships sail, our aircraft fly or our ground vehicles work."
Such costs have pushed the U.S. military to explore energy innovations and begin weaning itself off its oil dependency. The U.S. Navy has aimed to cut oil use in half by 2020 and make up the difference using alternative, ecologically friendly "green" fuel sources. It has also begun looking into hybrid and electric power for many of its ships and vehicles.
Stay up to date on the latest science news by signing up for our Essentials newsletter.
Jeremy has written for publications such as Popular Science, Scientific American Mind and Reader's Digest Asia. He obtained his masters degree in science journalism from New York University, and completed his undergraduate education in the history and sociology of science at the University of Pennsylvania.