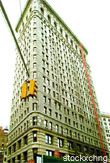 (Image credit: stockxchng.com)
An informal straw poll of New Yorkers reveals that many think global warming and El Niño are somehow contributing to this year's unusually mild winter, but as with the public at large, opinions vary wildly. Daytime temperatures were a chilly but not freezing 35 degrees Fahrenheit yesterday when this reporter walked the streets of Manhattan to ask the following questions: • Do you think the weather this winter is typical or unusual? • Do you think global warming is affecting our weather this winter or do you think the two have nothing to do with each other? • Have you ever heard of El Niño? Do you know what it is? • Do you think El Niño does or does not have anything to do with the weather this winter? Of the 39 interviewees, 34 (87 percent) said this winter was indeed unusual. "I was at the Botanical Gardens recently and there were cherry blossoms blooming," said Simon Fornari, 22. "What's up with that?" Two-thirds of the respondents thought global warming was playing some kind of role. Others were skeptical.
"I'm sure if they checked back, we've had similar weather through the years," said one woman who asked not to be identified.
Some expressed vehement opposition to the idea. "I think global warming is a lot of bulls**t!" barked one elderly man as he hurried through the streets of Midtown. Mike Wachs, a Verizon Yellowbook employee strolling Madison Square Park, was more diplomatic. "Even though it's been warm, I think global warming is not everything to do with that," Wachs said. "Yes, it's warmer than usual, but without global warming, we would've gotten that way anyway, but maybe two degrees less." There seems to be more confusion about El Niño. Many people weren't aware that the cyclical warming of regions in the Pacific Ocean was actually occurring now, and only 22 people (56 percent) thought El Niño was affecting New York City weather.
In Union Square Park, a woman was bundled up against the cold and reading a book. When asked if she thought El Niño affects our winter weather, she said, "I think it does, and I think the two [El Niño and global warming] are trying to blame each other."
Related Article
More to Explore
Stay up to date on the latest science news by signing up for our Essentials newsletter.