Huge 'Printer' Would Build a House in 24 Hours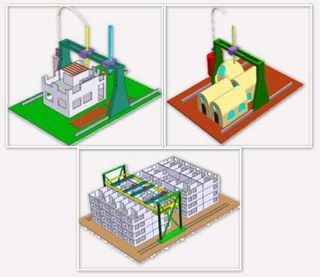 (Image credit: Behrokh Khoshnevis, USC)
Perhaps you've used those programs that let you design your dream house, creating a Computer Aided Design (CAD) file. Not quite ready to take up the hammer and start building? What if you could just "print" your house?
Dr. Khoshnevis' techniques will receive their first real world test in Los Angeles sometime in April of this year. The first prototype will be a watertight shell of a two-story house built in 24 hours - without a single construction worker on the job site (see small-scale demonstration video).
See Contour Crafting: 3D House Printer for additional details on how the technique actually works.
(This Science Fiction in the News story used with permission from Technovelgy.com
Stay up to date on the latest science news by signing up for our Essentials newsletter.
Bill Christensen catalogues the inventions, technology and ideas of science fiction writers at his website, Technovelgy. He is a contributor to Live Science.