Snail Mail with Real Snails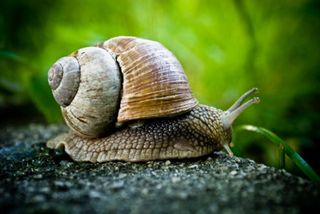 (Image credit: stockxpert)
We often jokingly refer to delivery of letters by the post office as "snail mail," comparing it to the lightning speed of email and instant messaging. RealSnailMail is a performance art piece in which the artists create snail mail with real snails. The intent is to harness the power of gastropods to deliver email messages across short distances using special waterproof RFID tags glued to their shells.
In the project, messenger snails are 'chipped' by using a waterproof glue to affix an RFID tag to its shell. The project will focus on a suitable snail environment (like a fish tank) with several RFID readers installed at different spots.
The project begins with a web site that accepts short messages from people on the Internet. These messages are placed into a queue for snail mail delivery.
As a tagged snail first crawls into the range of an RFID reader, the reader will pull a message from the queue, and encode a message onto the chip. The snail then oozes away and eventually comes within range of another reader; at this point, the message is read and transmitted, and another message is taken from the queue for delivery. The very slow speed of snails and flat bottomed tank should eliminate the read problems associated with RFID tag collision.
In creating this project, the artists hope to contrast the lightspeed artificial world of RFID and Internet technology with the natural world.
Science fiction writer Frank Herbert was also fascinated with the contrast between the artificial technological creations of people and the organic world. See this article on the distrans, a method of communicating using bats over a distance in his 1965 novel Dune.
If the RealSnailMail performance art project caught your interest, check out this real-life experiment using pigeons to deliver digital information - Digital Squab Line (DSL) Has High Bandwidth, a project to demonstrate the high data transmission speeds possible with carrier pigeon delivery in Israel.
Read about RealSnailMail and get more information about RFID technology; found this one thanks to Reg.
(This Science Fiction in the News story used with permission from Technovelgy.com - where science meets fiction.)
Stay up to date on the latest science news by signing up for our Essentials newsletter.
Bill Christensen catalogues the inventions, technology and ideas of science fiction writers at his website, Technovelgy. He is a contributor to Live Science.