'Worm Porn' Sheds Light on Evolution of Sperm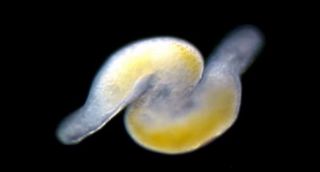 (Image credit: Lukas Schärer)
Watching hours upon hours of worms having sex (yes — essentially worm porn), has helped scientists figure out why some flatworms have simple, thin, squiggly sperm, while others sport larger sex cells with bristles and a feeler in the front.
The new findings shed light on the evolution of all animal sperm, the researchers said.
In the study, a team that included Lukas Schärer and his wife Dita Vizoso, both of the University of Basel in Switzerland, linked the evolutionary loss of the bristles — which they think keep the sperm lodged in the female reproductive tract — as well as the feelers, to the adoption of a new mating strategy that renders the bristles useless.
Schärer described the methodology that led to their discovery: "You take time-lapse movies and sit there and look at worms mating for some hours," Schärer said. [Video: Worm Sex & Sperm]
Some were more obliging than others, mating all the time, while other healthy specimens didn't get down to business when placed together, he said. [
Stay up to date on the latest science news by signing up for our Essentials newsletter.
Wynne was a reporter at The Stamford Advocate. She has interned at Discover magazine and has freelanced for The New York Times and Scientific American's web site. She has a masters in journalism from Columbia University and a bachelor's degree in biology from the University of Utah.