Hold Your Nose! Corpse Flower Drops a Stink Bomb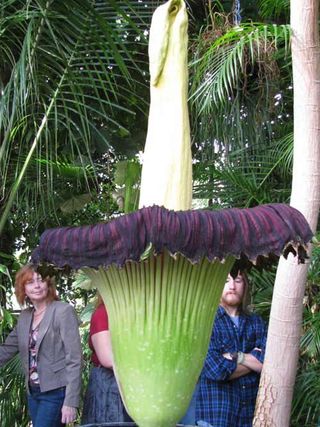 (Image credit: Binghamton University.)
A rotten-flesh-smelling "corpse flower" — named Metis — bloomed late yesterday afternoon (Sept. 14) at Binghamton University in upstate New York.
By 9:30 p.m. ET, Metis had rolled down its outer shell to reveal a dark purple bloom. The carrion odor was unavoidable an hour later, and should have peaked between 10:30 p.m. and 2 a.m. ET, after most of the flower watchers had headed home, greenhouse managers reported.
"By 10:30 it was very rank," said greenhouse manager Laurie Kasperek. "I didn't stay past 10:30."
These rare blooms are fleeting, however, and by mid-morning today (Sept. 15) the flower's spadix — the towering part of the middle of the flower — had started to collapse, and the bloom's color had begun to fade, Kasperek said. Greenhouse staff expects the bloom to continue to deteriorate throughout the day. [See the stages of a corpse flower's bloom.]
"It is still impressive and as of this morning there is still some lingering odor," Kasperek wrote on the greenhouse's website.
The flower is a rare example of the Indonesian Titan Arum (Amorphophallus titanum) plant. Native to the equatorial rainforests of central Sumatra in western Indonesia, it evolved its horrendous odor to attract pollinating carrion beetles and flesh flies, which normally feed on rotting flesh.
Metis either smells like road kill that's been cooking on the asphalt, or like an old diaper, depending on who you ask, said Tim Scott, a graduate assistant at the greenhouse.
"It still smells pretty bad, but not nearly as bad as yesterday," Scott told OurAmazingPlanet.
The corpse flower bloom is actually not a single flower, but thousands of tiny flowers, which botanists call an inflorescence.
The Binghamton plant came from Bali, Indonesia. The plant was named Metis, in honor of the ancient Greek goddess of learning and teaching and in keeping with the tradition of naming the corpse flower after mythological Titans from ancient Greece.
When Metis was sent to Binghamton University in 2007, it weighed in at a little over 4 pounds (1.8 kilograms) and measured 8 inches (20 centimeters) in diameter. In the spring of 2008 it produced a fair-sized leaf and by the time Metis went into dormancy later that year, it weighed a whopping 40 pounds (18 kg) and measured 24 inches (61 cm) in diameter.
In 2009 Metis grew a much bigger leaf, this one measuring 10 feet (3 meters) high and 10 feet wide. Such a large leaf, however, took its toll. When Metis entered its dormancy period at the end of April 2010, it only tipped the scales at a comparatively skinny 30 pounds (14 kg). Now, a mere four months later, Metis is back, producing its first flower at the ripe old age of 5.
Typically, Titan Arums are teenagers when they begin to bloom — flowering at this young age indicates that Metis could be fairly advanced for its age. Greenhouse staff is eager to see just how well Metis is going to do during its very first flowering, realizing of course, that since corpse flowers bloom very infrequently, they may not see another bloom for upwards of 15 years.
On the day of the bloom (Sept. 14) Metis stood just over 5-feet-tall at 67.5 inches (171 centimeters).
Stay up to date on the latest science news by signing up for our Essentials newsletter.
Brett Israel was a staff writer for Live Science with a focus on environmental issues. He holds a bachelor's degree in biochemistry and molecular biology from The University of Georgia, a master's degree in journalism from New York University, and has studied doctorate-level biochemistry at Emory University.