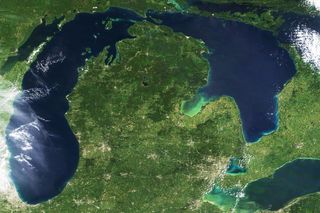 (Image credit: MODIS Land Rapid Response Team, NASA GSFC)
An unidentified flying object (UFO) was shot down over Lake Huron in Michigan on Sunday (Feb. 12) — the fourth such object detected over the U.S. in a little over a week.
The flying object, which reports suggest was octagonal in shape and had strings hanging off of it, was first spotted over Montana on Saturday (Feb. 11) and then on Sunday, it migrated across the skies of Wisconsin before an F-16 shot it down over the lake in Michigan, officials said.
Just a day earlier, an American F-22 fighter jet shot down a car-size unidentified flying object (UFO) over Yukon, Canada, Canadian Prime Minister Justin Trudeau announced Saturday (Feb. 11).
In that instance, a fighter jet with the North American Aerospace Defense Command (NORAD), which is run by both the U.S. and Canada, shot down the strange object at the behest of Canada, Trudeau said, according to The New York Times.
"I ordered the take down of an unidentified object that violated Canadian airspace," Trudeau wrote on Twitter.
Canada is now in the process of recovering the wreckage to determine its origin and nature. Reports suggest it was cylindrical in shape and unlikely to be a balloon, according to The New York Times.
This is the third time in a few days that a strange object has been shot down after entering U.S. airspace. Another object was detected entering U.S. airspace around 9 p.m. Alaska time on Thursday (Feb. 9) and the U.S. government subsequently sent a surveillance plane to track it. The object was flying between 20 and 40 mph (32 and 64 km/h) at an altitude used by civilian aircraft.
It criss-crossed land over Alaska before heading out to sea. It was flying toward the North Pole when it was shot down over the Arctic Ocean off the coast of Canada, John F. Kirby, a spokesman for the National Security Council, said in a news briefing on Friday (Feb. 10). Thus far, the U.S. does not see evidence that that object posed a military threat, officials said.
The U.S. is now in the process of recovering the wreckage to determine what that first object was. But harsh, icy conditions mean that recovery efforts, which are being assisted by U.S. Northern Command, Alaska National Guard units, the F.B.I. and local law enforcement, are slow-going, according to the New York Times.
And just a week ago, a Chinese spy balloon was destroyed Feb. 4 after being detected over Idaho in late January. That balloon, which was much larger than the object shot down over Canada this week, was traveling tens of thousands of feet above civilian airspace and was allowed to cross into the Atlantic Ocean before being taken down by an air-to-air-missile.
This strange flying object is just one of many being investigated by the U.S. Department of Defense. In early January, the Pentagon released documents indicating that it was struggling to explain about half of the hundreds of UFO reports it received last year.
Editor's Note: This story was updated to note that the U.S. shot down yet another UFO on Feb. 12. It was also corrected on Feb. 11 to note that the Feb. 9 and Feb. 10 detections were separate incidents. A previous version of the article conflated the two.
Stay up to date on the latest science news by signing up for our Essentials newsletter.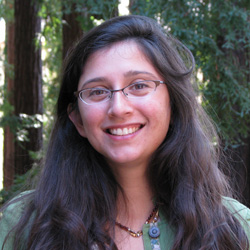 Tia is the managing editor and was previously a senior writer for Live Science. Her work has appeared in Scientific American, Wired.com and other outlets. She holds a master's degree in bioengineering from the University of Washington, a graduate certificate in science writing from UC Santa Cruz and a bachelor's degree in mechanical engineering from the University of Texas at Austin. Tia was part of a team at the Milwaukee Journal Sentinel that published the Empty Cradles series on preterm births, which won multiple awards, including the 2012 Casey Medal for Meritorious Journalism.