Students set to land first US rover on the moon — before NASA
Students at Carnegie Mellon University are sending America's first lunar rover to the moon this May, beating NASA to the punch by about a year.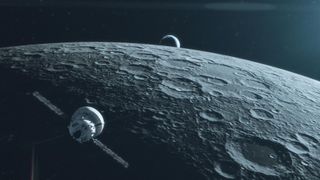 (Image credit: NASA/Liam Yanulis)
After 65 years of lunar exploration, the United States is finally going to put its first autonomous rover on the moon. But this mission won't be helmed by NASA engineers — instead, it is the brainchild of a dedicated group of college students.
The Iris rover was developed by students, faculty and alumni at Carnegie Mellon University in Pennsylvania over the span of three years. It is being carried to the moon as part of NASA's Commercial Lunar Payload Services (CLPS) program, the agency's foray into partnering with the commercial space industry. Initially, it was scheduled to launch in late 2021 or early 2022, but setbacks in NASA's moon agenda delayed the launch to this spring.
The mission represents America's first moon rover (NASA's Viper rover is scheduled to launch next year), as well as the first rover to be developed by university students. The 4.4 pound (2 kilograms) rover has a chassis as big as a shoebox, and its carbon-fiber wheels are the size of bottle caps. Its 60-hour-long mission will be a primarily visual one: snapping images of the moon's surface for geographic study. It will also test new localization techniques as it transmits data about its position back to Earth.
In addition to Iris, the Carnegie Mellon team plans to send along an art installation called the MoonArk, a tiny time capsule filled with poems, music, pictures and small objects. The project is meant to convey a narrative "that is moving to people now, but also 1,000 years down the road," Dylan Vitone, an associate professor at Carnegie Mellon and MoonArk director said in a statement. A second, identical ark is currently on display at the Smithsonian National Air and Space Museum.
MoonArk and its pint-sized rover companion will hitch a ride to space aboard United Launch Alliance's Vulcan centaur rocket, and be shuttled down to the lunar surface by Pittsburgh-based space company Astrobotic's Peregrine lander. Launch is currently scheduled for May 4 — which, fittingly, the internet has christened international Star Wars Day — from the Cape Canaveral Space Force Station in Florida.
"Hundreds of students have poured thousands of hours into Iris," Raewyn Duvall, a research associate at Carnegie Mellon University and commander of the mission said in a statement. "We've worked for years toward this mission, and to have a launch date on the calendar is an exciting step."
Stay up to date on the latest science news by signing up for our Essentials newsletter.
Joanna Thompson is a science journalist and runner based in New York. She holds a B.S. in Zoology and a B.A. in Creative Writing from North Carolina State University, as well as a Master's in Science Journalism from NYU's Science, Health and Environmental Reporting Program. Find more of her work in Scientific American, The Daily Beast, Atlas Obscura or Audubon Magazine.